Judge Clifton Newman, who earlier had barred testimony about Alex Murdaugh's alleged 'suicide for hire' plot, reversed his ruling Wednesday afternoon.
The judge in Alex Murdaugh's trial for the murders of his wife and son dealt a blow to prosecutors Wednesday morning when he barred discussion of the disgraced South Carolina attorney's alleged "suicide for hire" plot, but reversed his ruling in the afternoon when the defense brought up Murdaugh's co-conspirator in that case during a cross-examination.
Murdaugh is accused of hiring a former client, Curtis Smith, to kill him so that his surviving son — Buster Murdaugh — could receive a a $10 million insurance pay out, as CrimeOnline previously reported. But the shot to the head on September 4, 2021, was just a graze wound. That plot unfolded the day after his family's storied law firm forced him out over millions in financial improprieties. Two days later, Murdaugh entered rehab for an opioid addiction.
Judge Clifton Newman rejected prosecutors' arguments to allow testimony about the incident, however, saying it failed to meet the "relevancy test."
All of that took place three months after Maggie and Paul Murdaugh were shot to death on the family's hunting property. Alex Murdaugh says he had dinner with Maggie and Paul that day, then fell asleep watching television. He woke up and left the house to visit his mother, who has Alzheimer's, without seeing or speaking with either of them. When he returned, he said, he found his wife and son's bodies.
A video found on Paul Murdaugh's phone, however — taken minutes before he and his mother were murdered — includes a voice that several witnesses said they were certain was Alex's.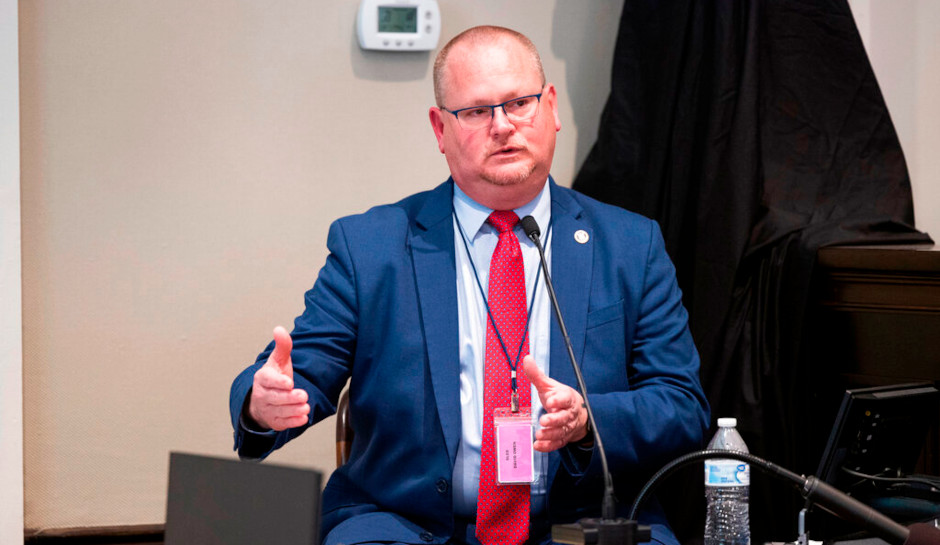 Prosecutors, who are winding down their case, brought lead investigator David Owen to the stand to discuss his interactions with Murdaugh, particularly a friendly interview on August 11, 2021, in which Murdaugh's answers to questions appeared inconsistent with his earlier statements.
Prosecutors played a video of the interview, which shows Murdaugh crying as the the interview begins but stopping when Owen tells him about Paul Murdaugh's Snapchat video showing his father wearing different clothes from what he was wearing later in the evening when he says he found the bodies of his wife and son.
Murdaugh tells Owen he isn't sure when he changed clothes and can't say when Maggie Murdaugh arrived at the family's hunting estate or how long his family dinner with Maggie and Paul lasted.
Owen also testified that Murdaugh's timeline of when he arrived at the estate from his office doesn't match with witnesses there, and Murdaugh said that Maggie told him she was coming to the estate that day, while Maggie herself told a friend that her husband had asked to meet with her.
Murdaugh was accompanied at the interview by his friend Corey Fleming, an attorney who was later charged with insurance fraud for allegedly helping Murdaugh steal money from a settlement for the sons of the family housekeeper, who died in a fall.
During cross-examination Wednesday afternoon, however, Murdaugh's attorneys brought up Smith, and prosecutors immediately asked Newman to reconsider his ruling from the morning regarding the "suicide for hire" plot. The judge announced at the close of the day that he was reversing his ruling and will allow the jury to hear testimony about the scheme.
When Owen's testimony was complete, prosecutors called David Grubbs of the South Carolina Attorney General's Office to the stand to testify about Paul and Maggie Murdaugh's cell phones.
The trial resumes Thursday morning at 9:30 a.m.
For the latest true crime and justice news, subscribe to the 'Crime Stories with Nancy Grace' podcast.
[Featured image: Video of an investigative interview with Alex Murdaugh was shown February 15 at his trial for murder at the Colleton County Courthouse in Walterboro, South Carolina. 1. (Joshua Boucher/The State via AP, Pool)]