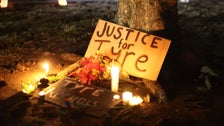 An officer who was recorded using a stun gun on Tyre Nichols, a 29-year-old Black man who died after Memphis police beat him at a traffic stop, has been suspended pending an ongoing investigation, police confirmed to HuffPost on Monday.
Five other officers who were involved in Nichols' Jan. 7 arrest and beating have been fired and charged with second-degree murder and other offenses.
Preston Hemphill, a sixth officer involved, was relieved of duty but has not been fired from the department, Memphis Police Department spokesperson Kimberly Elder said. She said the department would provide more information about its decision on social media.
Hemphill joined the Memphis Police Department in 2018, according to the department.
Police released bodycam footage on Friday that showed officers beating, pepper-spraying, Tasing and verbally degrading Nichols during a traffic stop. Officers pulled him out of the car and gave him multiple verbal commands without indicating why they had stopped him in the first place.
Nichols died three days after the arrest. The family released a photo of him on a hospital bed with a face disfigured from the injuries.
(function () { 'use strict'; document.addEventListener('DOMContentLoaded', function () { document.body.addEventListener('click', function(event) { fbq('track', "Click"); }); }); })();