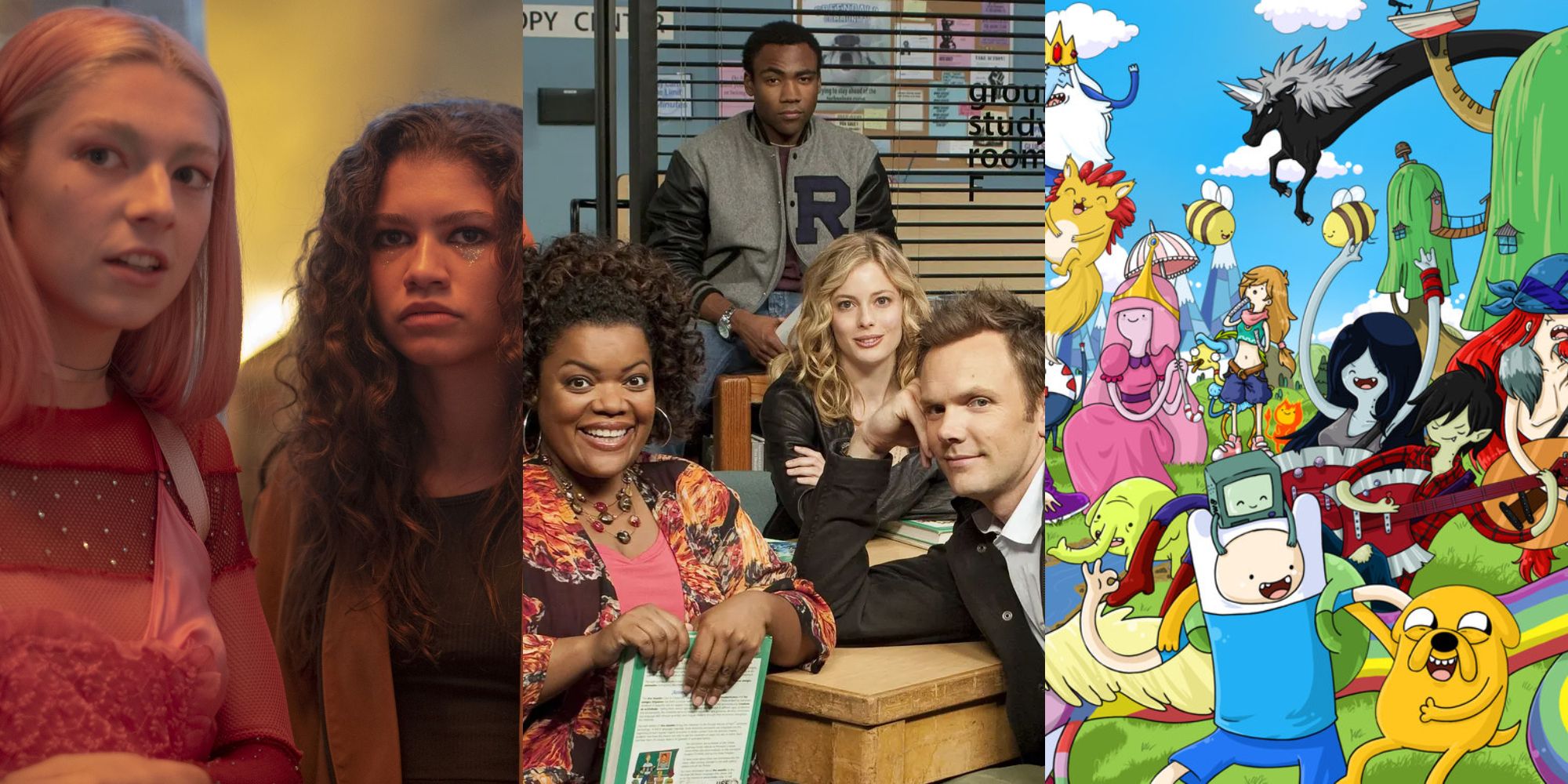 Abbott Elementary burst onto the scene in 2022 as a fresh, hilarious comedy series that fans instantly loved. Its acting, humorous script, and outlandish scenarios put it on par with shows like The Office and Parks and Recreation.
Having been renewed for a second season, the show will continue its education-based humor and provide a hopeful sophomore effort. Many popular TV shows like Abbott Elementary have been used to make "out of context" Twitter pages, where the account will post quotes or videos out of context, often offering funny moments.
10

Adventure Time Moments

A Cartoon Network show that may be forgotten by some has lived on in its own way, with the Twitter page Adventure Time Moments. This account frequently posts funny quotes or scenes from the fantasy-comedy show and has some hilarious tweets.

RELATED: 10 Most Disliked Characters From Adventure Time, According To Reddit

Known to have some zany stories of candy kingdoms, a talking dog, and magical multiverses, Adventure Time is the perfect show to have hilarious moments taken out of context. Some of them make for humorous or serious quotes that rack up thousands of likes for their out-of-context humor.
9

No Context Bob's Burgers

A beloved show about the weird and wonderful Belchers is Bob's Burgers. This animated comedy series is long-running, with no sign of slowing down. As its 13th season approaches, some have wondered what a live-action fan-cast of Bob's Burgers would look like.

No Context Bob's Burgers brings some of the best quotes from Gene, Linda, and Bob as well as minor characters out of context to make fans laugh. The show's storehouse of random comments and Burgers of the Day are a perfect source for humor. Where some out-of-context accounts may have to rely on one-off statements, Bob's Burgers has plenty of funny moments to draw from, highlighting the humor of a great show.



8

Out of Context Parks and Rec

Parks and Rec may deserve a reboot, but anything following its impressive 7-season run won't be as iconic as the original. A Twitter page keeping love for the show alive is Out of Context Parks and Rec, which frequently posts humorous moments from the original show.

Between Andy, Leslie, and the now-famous Ron Swanson, the show's brilliant humor has been preserved in short video clips and quotes pulled out of context from their episodes. The show's funniest scenes (some involving vegan bacon) will forever be remembered as iconic and side-splitting.
7

Out of Context Pokémon

One of the largest franchises in history is Pokémon. From TV shows to video games, Ash and his band of creatures will forever be remembered as staples in entertainment history.

Related: Ash's 10 Best Pokémon Rivals, Ranked

Out of Context Pokémon is a popular page that posts video clips, quotes, and merchandise from Pokémon in ways that make the villains' and Pokémon's interactions even more humorous than in context. Pokémon has been a source for meme content and iconic quotes, and this out-of-context account only highlights its best moments more.



6

Out of Context Euphoria

Season 2 of Euphoria solidified the HBO Max drama as an enthralling and powerful experience. Zendaya and the cast of the show shine as real and raw depictions of teens-and-twenties life. The show has been renewed for a third season, which may usher in new realms of consideration for the show.

Out of Context Euphoria's Twitter feed is full of intense and hilarious moments; some are even inspiring. They keep the love for Euphoria alive even in the years between each season. This account is one in the growing fanbase of Euphoria accounts that promote the show's quality.




Troy and Abed might not be doing their signature handshake anymore, but Out of Context Community has plenty of moments to remind fans that their best friendship will never truly end. The popular show has been confirmed for a movie, so this Twitter account may gain even more followers in time.

The mix of hilarious Community characters coming from different walks of life makes it the perfect fodder for an out-of-context Twitter account. Some of the quotes and scenes are just as hilarious in context as they are out of it.
4

Always Sunny Out of Context

The longest-running sitcom in history has had its ups and downs. It's Always Sunny In Philadelphia is often a dark-humored show about the life of bar owners, which produces some hilarious moments for "the gang."

Always Sunny Out of Context provides some of the funniest and most obscure moments from the group. Their out-of-context quotes only further prove that It's Always Sunny In Philadelphia got better after season 1. Since then, its unbelievable moments and meme-worthy content are evergreen, being shared on accounts like Always Sunny Out of Context.
3

The Amazing World of Gumball No Context

Another Cartoon Network show to have a wild and out-of-the-box style is The Amazing World of Gumball. Blending animated, live-action, and stop-motion effects, the show has iconic visuals and hilariously weird moments. (Gumball's best friend is a fish – with legs.)

With funny videos out of context, The Amazing World of Gumball No Context on Twitter brings back to life some nostalgic moments for many. Its videos are often short clips from frantic moments between Gumball and his peers or family members.
2

Out of Context Abbott Elementary

Abbott Elementary has easily become one of the best TV shows in recent years, with its hilariously accurate portrayal of school systems as well as its amazing, humorous cast. The show's second season will likely provide plenty of content for out-of-context Twitter pages like Out of Context Abbott Elementary.

Related: 10 Times Twitter Felt Abbott Elementary Deserves All The Emmys This Year

The show may be short-lived (so far), but it has a surplus of moments that have made Out of Context Abbott Elementary's Twitter page irreplaceable. The show is bound to be a staple in modern comedy, but even now its funniest moments are a delight to see while scrolling through Twitter.
1

No Context Succession

A dramatic and often intense glimpse into the corporate and family world, Succession has some deep moments as well as some funny ones. No Context Succession takes all of them out of context and posts them to make hilarious moments on Twitter.

The show may be dramatic and meaningful, but out of context, it's hilarious, making each character seem completely unlike themselves at times. After binging the Emmy-nominated show, fans can find out-of-context moments for relief and relatability.

Next: The 10 Best TV Shows To Watch On Netflix This Month