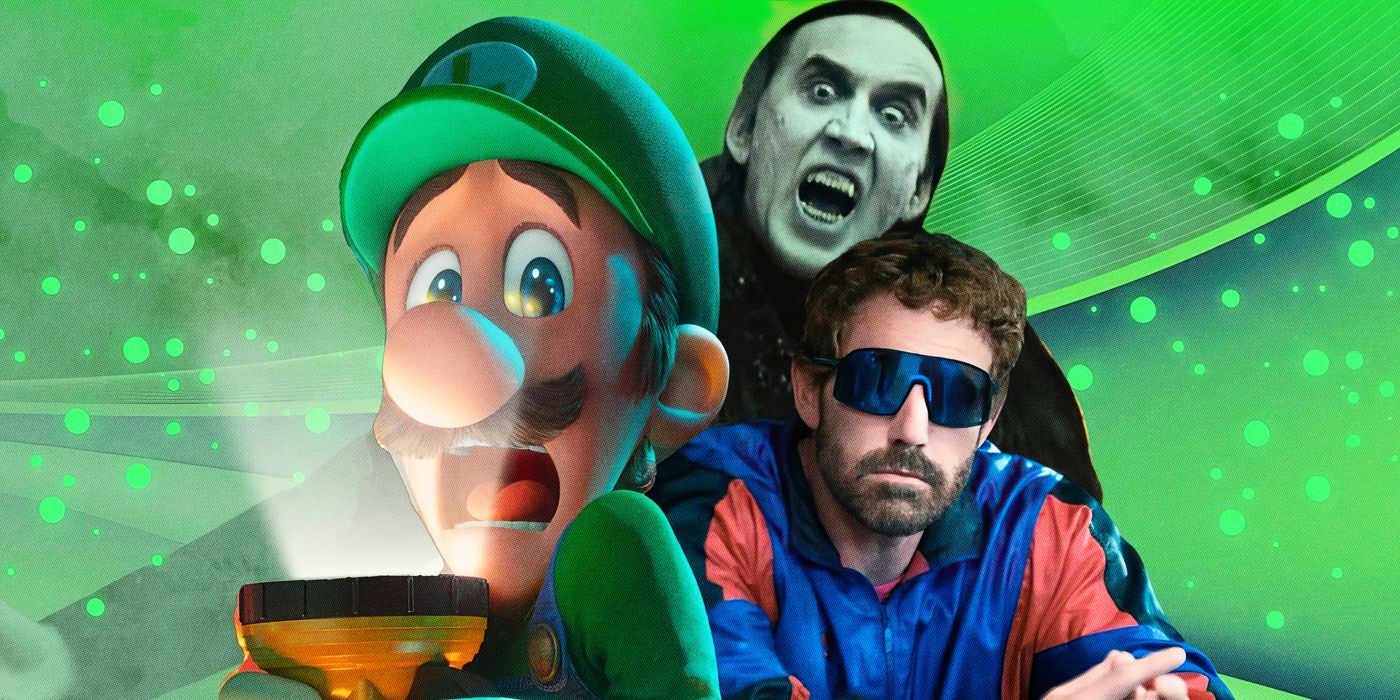 Spring is in the air! As well as the buttery smell of popcorn and movies. Nicolas Cage bears his fangs alongside Nicholas Hoult in Renfield, the dark comedy about Dracula's henchman who has had it up to here with his boss. Brooke Shields is sharing her story in Pretty Baby: Brooke Shields, a definitive documentary about her intense childhood fame. Nintendo's plumbing brothers Mario and Luigi are battling Bowser in the aptly titled The Super Mario Bros. Movie. Horror movie guru Ari Aster gets his weird on in Beau Is Afraid, a movie starring Joaquin Phoenix as a fellow with mommy issues. Ben Affleck and Matt Damon give us the footwear origin story we didn't know we needed in Air, a star-studded film about the origins of the Air Jordan sneaker. Plus, Owen Wilson gets colorful, Russell Crowe gets holy, and Toni Collette means business.
Grab your popcorn and put fresh batteries in your remote! Let's take a closer look at what movies will be hitting the big and small screens in April.
RELATED: All The New Movies Coming to Streaming This Week: 'Avatar: The Way of Water,' 'Murder Mystery 2,' 'Tetris,' and More
Pretty Baby: Brooke Shields
Release Date: April 3 on Hulu
She's ready to share her truth. The '80s were all about one person and one person only: Brooke Shields. The world-famous model got her start in the industry at a very young age, often against her wishes and morals, as she was aggressively managed by her fame-obsessed mother Teri Shields. Now in the Sundance Film Festival Official Selection Pretty Baby: Brooke Shields, directed by Taylor Swift's Miss Americana director Lana Wilson, Brooke can tell her complicated story of perseverance and triumph, and empower others in the process.
The Super Mario Bros. Movie
Release Date: April 5 in Theaters
Let's a-go! Everyone's favorite plumbing brothers are finally getting the (proper) movie treatment. Colors and characters collide in The Super Mario Bros. Movie, a film that follows Nintendo fan-favorites Mario (Chris Pratt) and his nervous brother Luigi (Charlie Day) as they journey by foot and kart through Princess Peach's (Anya Taylor-Joy) Mushroom Kingdom in the hopes of taking down the fiery threat of Bowser (Jack Black). The animated adventure features a number of iconic characters, such as Donkey Kong (Seth Rogen), Toad (Keegan-Michael Key), Cranky Kong (Fred Armisen), Penguin King (Khary Payton), and Spike (Sebastian Maniscalco).
Air
Release Date: April 5 in Theaters
It's time to lace up. Ben Affleck and Matt Damon team up once again for Air, the origin story for the mega-popular Nike shoes known as Air Jordans. Directed by Ben Affleck and written by Alex Convery, the historical drama is based on the real-life story of Sonny Vaccaro (Matt Damon), a shoe salesman who would go on to not only convince Nike to create the iconic shoe, but to take a chance on the then-unknown basketball legend Michael Jordan. The film also stars Viola Davis, Jason Bateman, Chris Tucker, and Chris Messina.
One Day as a Lion
Release Date: April 7 in Theaters
Money, lawyers, and horses. J.K. Simmons and Scott Caan face off in One Day as a Lion, part dark comedy, part hit-man adventure about Jackie Powers (Caan) a not-so-good hit-man in charge of seeking out the steely Walter Boggs (Simmons), only to massively fail. In a panic, he takes waitress Lola (Marianne Rendón) hostage, gets mixed up with some more bad guys, and tries to get his son out of jail. The film, which also stars Frank Grillo and Virginia Madsen, was directed by John Swab and written by Scott Caan himself.
Paint
Release Date: April 7 in Theaters
So, Paint is about Bob Ross, right? No. It's about Carl Nargle (Owen Wilson), a Vermont painter with quite a head of hair with a knack for painting nature scenes and talking calmly into the television. He's the number one TV personality and painter…until he isn't. His ego and future are tested when the new-painter-on-the-block Ambrosia (Ciara Renée) starts to make a name for herself doing the same thing. Who will have the better brush stroke, and who will paint the better tree?
On a Wing and a Prayer
Release Date: April 7 on Prime Video
Love, hope, and faith are in the air. Dennis Quaid stars in the faith and family-forward film On a Wing and a Prayer. Directed by Sean McNamara and written by Brian Egeston, the true-story drama follows Doug White (Quaid), a father on a private plane with his family who must take over when the pilot suddenly dies in the driver seat.
One True Loves
Release Date: April 7 in Theaters
What if they are both "the one"? Daisy Jones & the Six author Taylor Jenkins Reid's latest book adaptation One True Loves is all about, well, love. Hamilton star Phillipa Soo's Emma found the perfect match in her husband Jesse (Luke Bracey), but when he goes missing for years in a crash, she attempts to start over. She meets and falls for music teacher Sam (Simu Liu) and their relationship rekindles her zest for life, but is quickly disrupted when Emma finds out that Jesse is still alive. Who will she choose?
Showing Up
Release Date: April 7 in Theaters
Life imitates art, or, art imitates life? Recent Oscar nominees Michelle Williams and Hong Chau star in Showing Up, a dramedy that follows the reserved sculptor Lizzy (Williams) as she prepares for her big art exhibition. Her creative endeavors are constantly interrupted by family drama, life, and chaos. Thankfully, that chaos is a source of inspiration. The film, which competed for the Palme d'Or at the Cannes Film Festival, was directed by Kelly Reichardt who co-wrote it with Jonathan Raymond.
How to Blow Up a Pipeline
Release Date: April 7 in Theaters
They want to make some noise. And some change. The crime thriller How to Blow Up a Pipeline poses a lot of questions that will challenge the way you see environmental advocacy and fighting for what you believe in. Based on the nonfiction book of the same name by Andreas Malm, the film follows a group of young environmental activists who go to destructive and potentially violent lengths to prevent an oil pipeline from being built. The climate heist film stars Ariela Barer, Kristine Froseth, Lukas Gage, Forrest Goodluck, and Marcus Scribner.
The Pope's Exorcist
Release Date: April 14 in Theaters
Ah, yes, prepare to not sleep. Oscar winner Russell Crowe gets spiritual as Father Gabriele Amorth, the real-life Chief Exorcist of the Vatican, in director Julius Avery's The Pope's Exorcist. Based on Amorth's actual files and books An Exorcist Tells His Story and An Exorcist: More Stories, the horror film follows the head exorcist as he tries to solve the disturbing possession of a young boy, which ultimately leads him to exhume a conspiracy the Vatican has desperately tried to keep buried.
Renfield
Release Date: April 14 in Theaters
Nicolas Cage as Dracula? Yes, that's correct. Nicholas Hoult is in a toxic relationship as the titular character in Renfield, a horror action comedy that follows Renfield, the servant of roughly a century to Dracula who is getting tired of this one-way relationship. When he befriends and falls for cop Rebecca Quincy (Awkwafina) in New Orleans, he musters up the strength to confront his owner. But, Dracula isn't too keen on this newfound boldness. The movie is directed by The Lego Batman Movie director Chris McKay and was written by Ryan Ridley,and is based on an idea from The Walking Dead's Robert Kirkman. Also, how has it taken this long for us to see Cage in fangs?
Mafia Mamma
Release Date: April 14 in Theaters
She's meant to be in the suburbs, not Italy. Toni Collette continues to prove that she can do everything with her latest project, Mafia Mamma. Directed by Catherine Hardwicke, this action crime comedy follows Kristin (Collette), a stereotypical American mom who inherits the wealthy empire and dangerous responsibilities of her mafia grandfather. Kristin has never been to Italy, let alone known a consigliere, so she couldn't be further out of her comfort zone. And don't be mad, but she's never seen The Godfather, either.
Rare Objects
Release Date: April 14 in Theaters
Sometimes, life needs to be pulled apart so it can be put back together the right way. Katie Holmes works in front of and behind the camera for Rare Objects as she flexes her creative muscles as director, co-writer, and star. Based on Kathleen Tessaro's 2016 novel, the drama follows Julia Mayorga as Benita, a woman with a traumatic past looking to pick up the pieces of her life by working in an antique shop. Along the way, she connects with the owner and a variety of customers, attempting to build a new life filled with confidence and hope.
Suzume
Release Date: April 14 in Theaters
Open the door to a world of possibilities. From Makoto Shinkai, the writer-director behind Your Name. and Weathering with You comes Suzume, an animated action-adventure about Suzume Iwato (Nanoka Hara), a 17-year-old girl who is on a quest with a man named Sota Munakata (Hokuto Matsumura) to close the strange doors across Japan that are unleashing chaos and danger into the world. Also, a talking chair!
Quasi
Release Date: April 20 on Hulu
Medieval France just got very silly. From Broken Lizard, the people behind Super Troopers and Beerfest, comes Quasi, a comedy about a hunchback (Steve Lemme) who wants love…and a new back. During Pope Week, he becomes involved in a fatal feud between the Pope and the king of France as both want him to kill the other. The comedy also stars Adrianne Palicki, Jay Chandrasekhar, Kevin Heffernan, and Gabriel Hogan.
Evil Dead Rise
Release Date: April 21 in Theaters
Only see this movie if you are cool with very gross things, like severed scalps. Lee Cronin serves as the writer-director for Evil Dead Rise, the fifth movie installment in the classic horror franchise. Lily Sullivan stars as Beth, a woman who visits her sister Ellie (Alyssa Sutherland) who's busy raising three kids in California. Naturally, they find an old book in the apartment building that unleashes a flesh-possessing demon. And the Mother of the Year Award goes to…
Guy Ritchie's The Covenant
Release Date: April 21 in Theaters
Friendship has no borders. Jake Gyllenhaal leads the way in Guy Ritchie's The Covenant as John Kinley, a US Army Sergeant who works with Afghan interpreter Ahmed (Dar Salim) during the War in Afghanistan. When Kinley is knocked out on the mission, Ahmed steps in and drags him to safety, enabling him to eventually return home. When Kinley hears that Ahmed is being hunted by the Taliban and is stuck in Afghanistan, he steps in to save his friend when the United States refuses to get involved.
Beau Is Afraid
Release Date: April 21 in Theaters
He's a little scared. Ari Aster follows up his twisty and acutely disturbing horror filmsHereditary and Midsommar with Beau Is Afraid, a trippy film about Beau (Joaquin Phoenix), a paranoid man whose sheltered life is radically altered when his mother dies unexpectedly. What follows is an unpredictable and unimaginable adventure that also stars Armen Nahapetian, Parker Posey, Zoe Lister-Jones, Amy Ryan, Nathan Lane, Richard Kind, and Patti LuPone.
Chevalier
Release Date: April 21 in Theaters
We love a music prodigy. Directed by Stephen Williams and written by Stefani Robinson, the historical biopic Chevalier tells the origin story of Kelvin Harrison Jr.'s Joseph Bologne, Chevalier de Saint-Georges, a composer, violinist, and product of an affair between a slave and a plantation owner who becomes a prominent part of French society. But thanks to a complicated love life and the intense racism of the era, his fame and career are jeopardized. The drama also stars Lucy Boynton, Samara Weaving, and Minnie Driver.
Gringa
Release Date: April 21 in Theaters
When in doubt, go to Mexico. That's what Jess Gabor's Marge does in Gringa, a heartfelt dramedy about a teenager who heads to Mexico in search of Jackson (Steve Zahn), her alcoholic and crotchety father who she thought was in jail. Along the way, Jackson attempts to coach his daughter's soccer team to victory and Marge's mother Mini (Judy Greer) tries to lead her daughter down the right path.