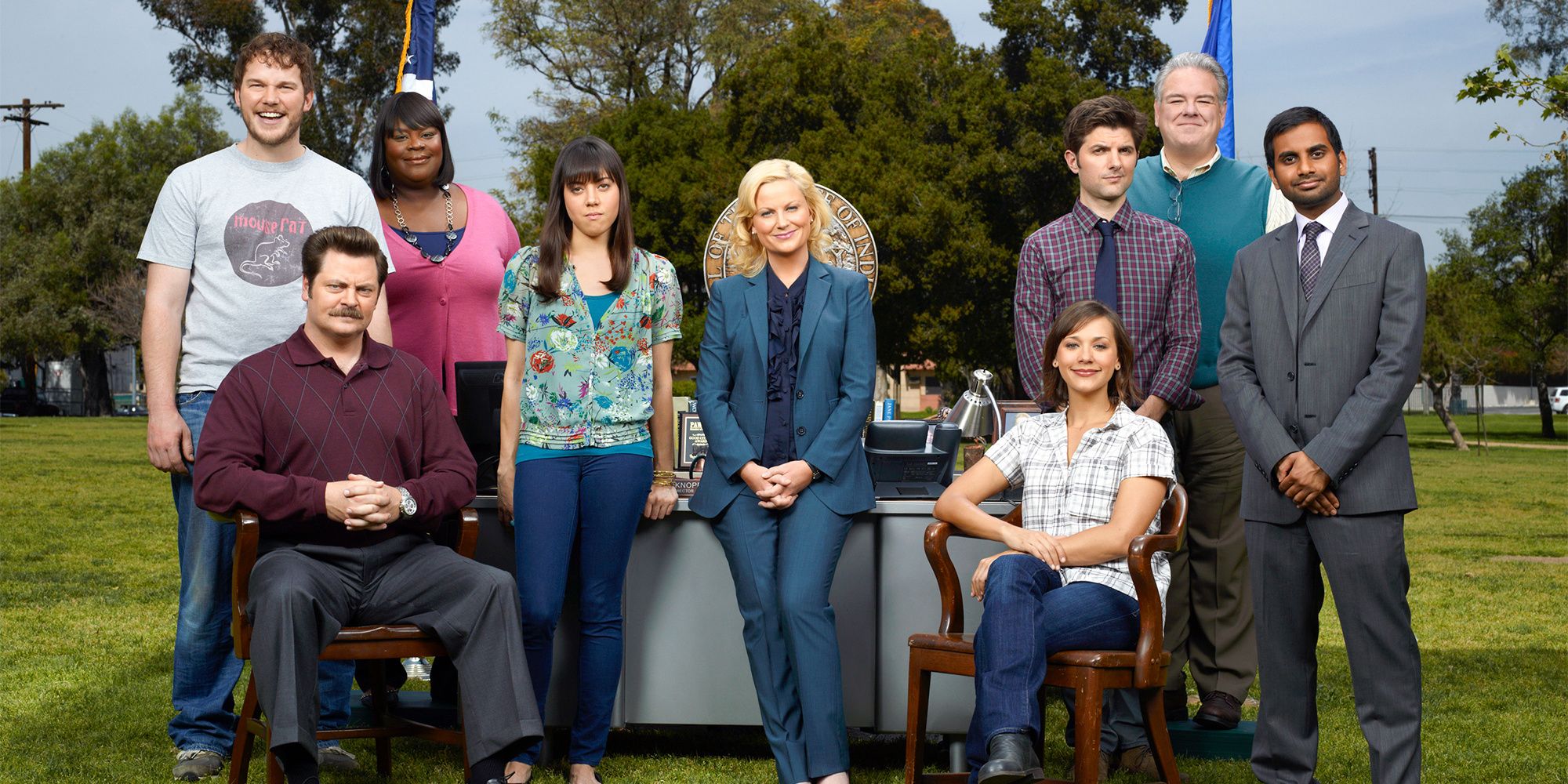 When Parks and Recreation premiered on NBC in 2009, it didn't look like a series that would last too long. NBC was struggling, and this new show looked like a clone of The Office, with the faux documentary style following a group of strange characters in their workplace. Amy Poehler could be compared to Steve Carell too, with both having strong backgrounds in comedy on TV, but not quite being major stars yet.
In fact, the first season of Parks and Recreation struggled in quality and tone. Ratings were pretty abysmal and actually only got worse as the years went on, but against all odds, Parks and Recreation survived, lasting seven seasons. The series eventually found its voice, in the process giving us one of TV's all-time best comedies and launching the careers of costars Chris Pratt and Aubrey Plaza. On February 24, 2015, in a two-part finale titled "One Last Ride," It also gave us a beautiful goodbye never to be forgotten.
RELATED: The Best 'Parks and Rec' Scenes Are Between Nick Offerman and Megan Mullally
Andy Dwyer & April Ludgate Become Parents
Every sitcom series finale has certain tropes they must follow. Someone has to get married, or someone has to die. A character needs to get a new job that causes them to move away. Best of all, there should be a baby. Parks and Recreation threw all of that at the wall and it sticks. Two of the series' best characters had long been Andy Dwyer and April Ludgate. It was a joy to watch not only the characters grow, but the actors behind them as well. By the time the series came to an end, Aubrey Plaza and Chris Pratt especially were becoming household names.
On paper, Andy and April shouldn't have worked. Andy is like a big, dumb puppy dog, happy and full of life, even if he doesn't understand it. April is smart but perpetually miserable. Their opposites attract scenario is what made them so great to watch together. By the finale, Andy and April are married. It should be their happily ever after, but there's just one huge problem. Andy wants to have kids, but April doesn't. The series finale mostly takes place in the future, taking peeks into the lives to come for the employees at Pawnee, Indiana's Parks Department. It's now Halloween 2021 for Andy and April. With the couple struggling to resolve their differing desires, they talk to Leslie (Poehler) and Ben (Adam Scott) separately. Andy tells Ben how badly he wants kids. "You know, yesterday I was at the park and I saw this group of eight-year-olds laughing and playing and having a good time. I almost started crying. Granted, I'd just face-planted on my rollerblades. That's what they were laughing at."
Exactly a year later, on Halloween again, we find Andy and April in a delivery room. "Babe, you look more beautiful now than I've ever seen you." Cut to April wearing zombie makeup. She tells the doctor, played by Henry Winkler, who wants to help her get the makeup off, "No, I want it on. That's the whole point. I put the makeup on after I went into labor." She then instructs Andy to put on her birth mix, which fittingly includes "Monster Mash."
Everyone, Ron Swanson Included, Sees Their Dreams Come True
Similarly to The Office, Parks and Recreation was known for its plethora of whacky office characters. They were so well-defined that they became just as popular as the main cast. In the finale, they all get a fitting goodbye. Jerry or Garry (Jim O'Heir), whoever is the most lovable of all. He's a simple man who is made fun of his oafness, but he's also a very happy guy who loves his job and especially his home life, where he's married to a woman played by Christie Brinkley of all people. No one expects much of him, so it's awesome to see him end up becoming the mayor or Pawnee.
Braggadocios Tom Haverford (Aziz Ansari) has a restaurant business that goes belly up. No matter, he also gets married and writes a successful book. Craig (Billy Eichner) gets married too, as does Donna (Retta), who now lives in Seattle. Then there's the crazed brother and sister duo of Jean-Ralphio (Ben Schwartz) and Mona-Lisa (Jenny Slate). Their latest scheme sees Jean-Ralphio faking his death, only to flee America with his sister and the insurance payout to open a casino in Tajikistan. As expected, he gets in trouble for it, but hey, he's alive, so that's still a happy ending.
Then there's Ron Swanson (Nick Offerman), the director of the Parks Department. He's one of Leslie's best friends, but if there's anyone who despises humans more than April Ludgate, it's the mustachioed Swanson. The last season of Parks and Recreation sees Ron opening his own construction company, the Very Good Building and Development Company, but he still feels like something is missing in his life. Leslie knows the solution. She makes him the Superintendent of the Pawnee National Park. When introduced to his ranger employees, he tells them, "Your job and mine is to walk this land and make sure no one harms it. If you show up on time, speak honestly, and treat everyone with fairness, we'll get along just fine, though hopefully not too fine, as I'm not looking for any new friends." Ron then takes to a beautiful lake on a canoe, with one of Nick Offerman's signature wide smiles plastered on his face. He's found his calling, out in nature, far away from people.
Leslie Knope Finds the Greatest Success Imaginable
Leslie Knope has always been the star of Parks and Recreation, so it's her, and her life with Ben, that gets the most attention. She and Ben are parents to triplets. It's now 2025, and she's still hanging out with Joe and Jill Biden. It's at a dinner with them that she's approached by the DNC to run for governor. It's a dream come true, except someone approaches Ben with the same idea. They then have to decide which one of them will run. Leslie decides that they'll flip a coin, but Ben speaks up and says Leslie will be the one running. She makes Ben her campaign manager.
We then flash forward to Leslie Knope giving a commencement speech at Indiana University, where she's also getting an honorary doctorate. During her speech to the graduates, she says, "I've had a lot of different jobs, including two terms as your Governor." Leslie Knope made it. The woman who dreamed big and had enough passion for a hundred people accomplished everything she ever wanted. That's not all though. A flash forward to 2048 sees an aged Leslie and Ben at Jerry's funeral. It's not a sad affair though. The happy man made it to 100 and was still the mayor of Pawnee. What's most noticeable about this scene though is that Leslie and Ben are surrounded by Secret Service agents, implying that one of them is President. Smartly, with a lasting bit of mystery, it's never revealed which one of them is POTUS.
The last scene of Parks and Recreation goes back to 2017, with Leslie and everyone at a park celebrating a swing being fixed. They get their picture taken as a group one more time. As the timer is counting down, Leslie is looking off into the distance, away from the camera, a small smile on her face. "Are you ready, babe?" Ben asks her, referring to the photo that's about to happen. Leslie's smile grows bigger. "Yes," she says, not at all talking about the photo.
That's not quite the end of Parks and Recreation, however. On April 30, 2020, during the pandemic, the gang reunited for A Parks and Recreation Special. It wasn't anything overly memorable, serving more as a fundraiser for Feeding America's COVID-19 Response Fund than anything else. Still, to see so many people coming together in pre-taped videos and over Zoom when we couldn't truly be together, celebrating what Parks and Recreation still meant to them and so many, was the special part.