Jordan also addresses his first public break-up and his directorial debut with 'Creed III.'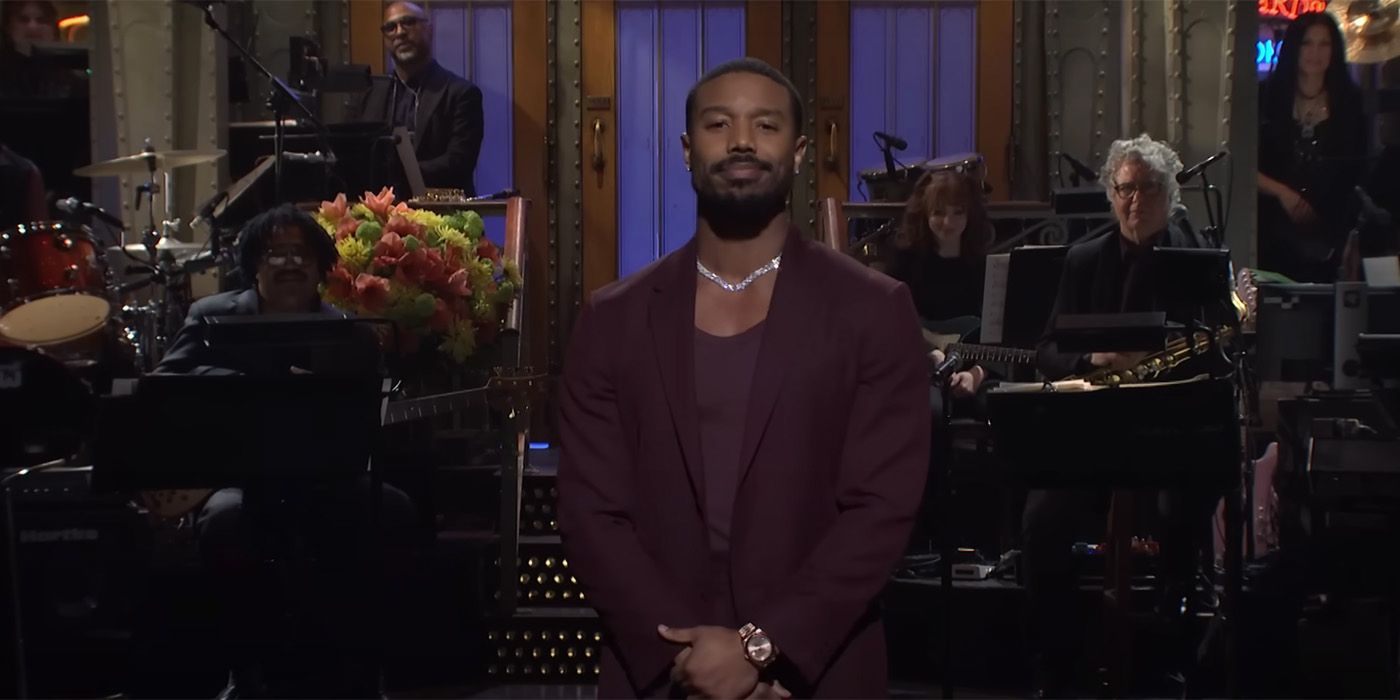 Michael B. Jordan hosted Saturday Night Live last night and from the moment he walked on stage one thing became very clear—everyone loves him. The Creed III star and director took to the show to promote his upcoming movie where he returns as Adonis Creed and makes his directorial debut. But it was in his monologue that he got sincere about his public break-up with Lori Harvey by showing a picture of himself post-breakup at a basketball game when people thought he was sad.
The picture ushered in some great jokes. Like no matter how much he cries and is sad on the internet if you type in "sad Michael Jordan" in Google, the first thousands of results all pull up a picture of Michael Jordan crying instead of the actor. But the news of his break up is one that fans clung to because if there is one thing we know about Jordan it is that people love him. And who wouldn't? He's a fantastic actor, he's funny, charismatic, and…well, he's hot. Jordan's monologue quickly evolved into a bit about how hot he is and how the women of the Saturday Night Live cast could not help themselves despite their relationship status or sexual orientations.
After talking a bit about his break up and the now infamous "Michael B. Jordan sad at a basketball game" picture, he went on to talk about how he was okay and that it meant that he had more time to learn a language which he used to tell the audience in Spanish that he's on Raya (a popular celebrity dating app). The moment ushered in what we can only assume is the norm for People's Sexiest Man Alive in 2020—a constant stream of women coming and throwing themselves at him.
RELATED: The Best 'SNL' Horror Spoofs, From "Kellywise" to "M3GAN 2.0"
Jordan was standing on stage when the women of SNL took turns coming on to him. It started with Chloe Fineman flirting with Jordan and when he asked about her boyfriend she made it clear that he'd be the exception. Then Heidi Gardner did a similar thing before Ego Nwodim just came out on stage in a wedding dress all leading to Punkie Johnson saying it doesn't matter that she's gay because "even vegans have cheat days."
It kicked off a great show for Jordan as host and really set the tone for how he was willing to laugh at himself and the sketches. Check out Jordan's SNL monologue down below.