Reflecting on his past roles, David Boreanaz says he's open to a Bones revival – but not Angel. To fans of a certain generation, and of a certain genre, the actor is still probably best known as the brooding boyfriend of Buffy the vampire slayer. For others, Boreanaz left the strongest impression as Seeley Booth on Bones. Still, the TV veteran has expressed a reluctance to revisit his old performances, because he'd prefer to turn the focus to his current projects.
Providing an update on those previous remarks, while promoting SEAL Team season 6, Boreanaz tells The AV Club that he would potentially be interested in reviving Bones. The actor cites Booth's chemistry and banter with Emily Deschanel's character, Temperance Brennan, as a draw, and says it would be more of a "realistic approach" than reviving Angel, due to the fact that he looks older while a vampire isn't supposed to age. Boreanaz's quote is included below:
You know, as time progresses, you just don't have that youthful look that you had in your late 20s and early 30s. But then again, he was a 242-year-old vampire with a soul. That would make him probably, like, 260-something with a soul now. So, I don't know how that would look. Seeley Booth, I think, may be a little bit more intriguing — as far as getting back to see where he's at with Temperance Brennan. And that banter. You just can't beat that. I think that may be more of a realistic approach, as far as I'm concerned.
Related: Why Bones Really Killed Off Sweets In Season 10
Why A Bones Revival Would Be Easier Than Rebooting Angel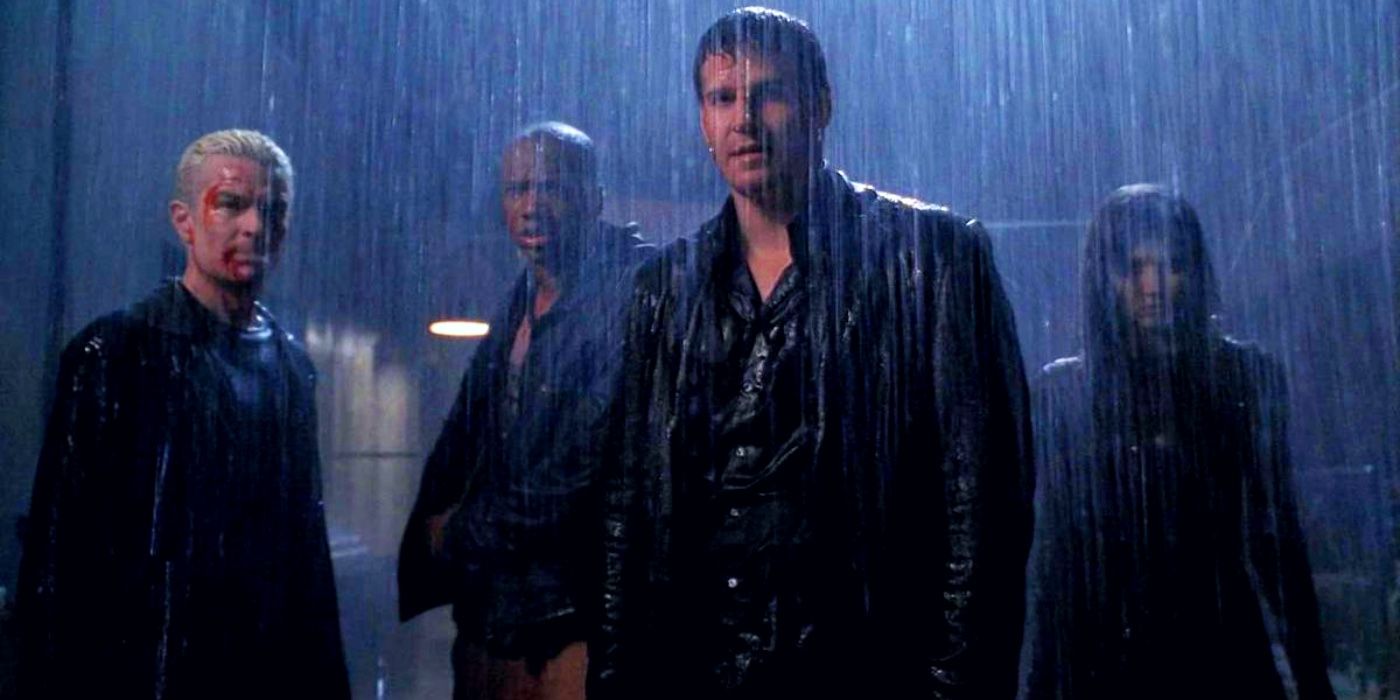 Deschanel previously weighed in on the possibility of bringing back Bones, saying she'd be open to it. At the time, she noted it was Boreanaz who wasn't interested in reviving the long-running Fox drama. His most recent comments indicate a slight shift, at least in comparison to Angel. It wouldn't be so farfetched, as projects like Criminal Minds: Evolution have provided a path forward in terms of how to resurrect procedurals: make them more serialized, dig deeper, and provide some presentation changes. That would be enough to bring Bones back, which Deschanel supports.
The problem with Angel isn't that the lead character would look older, as Boreanaz seems to half-jokingly mention; there are de-aging effects that would take care of those concerns. It's more the legacy that Angel has left behind, thanks to the behavior of co-creator Joss Whedon and the way he treated those he worked with. As expounded on in recent years by former collaborators, including Angel star Charisma Carpenter, Whedon's toxicity directly impacted the Buffy spinoff.
It would be tempting to fix those errors and, indeed, to bring Angel back to the screen. But it's a big challenge with no clear path forward. The most recent attempt at a Buffy reboot, for example, never made a single casting announcement and quietly died. There is likely more juice in the push to bring Bones back, simply because fans really did love the banter between the two leads, which is simple enough to tap into. There's no guarantee that it will happen, though it is notable that Boreanaz sounds more open to the idea than he has in the past.
More: Buffy The Vampire Slayer: The Actor Who Almost Played Angel
Source: The AV Club