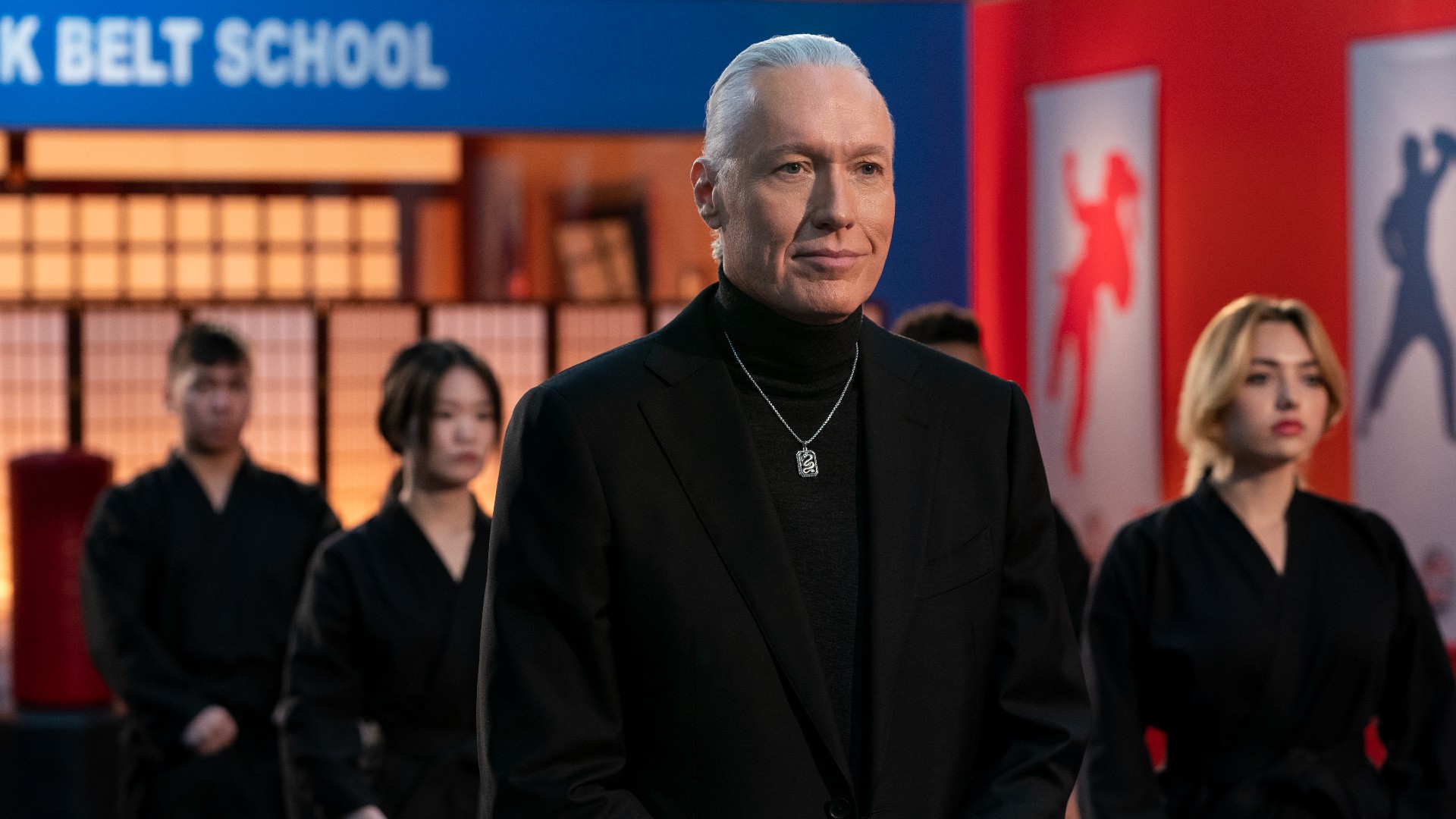 Mexico is a wild card for Cobra Kai. Carmen describes Miguel's dad as a bad man who doesn't even know that Miguel is his son. The tensions between Miguel and Robby have always been volatile and being a peacemaker has never been a skill of Johnny's. "We're not friends," explains Miguel, and for once, Robby agrees saying "We never will be." This won't end well.
Rivals Forever
The Karate Kid franchise was built upon rivalries: Daniel versus Johnny (and Chozen), Miyagi (Pat Morita) versus Kreese (and Silver). Cobra Kai has kept that tradition alive. The trailer teases the ongoing rivalry between Sam and Tory. At the end of Season 4, Tory seemed to want to reconcile with Sam, but then kicked her ass in the Championship finale. In the teaser, Tory ponders her All Valley Karate Championship trophy, as if weighing its cost. Meanwhile, Sam is in what might be a dark dream sequence, wearing her Karate gi in front of cheerleaders. She is also battling a sai wielder with her bo staff. Surely, she blames herself for Miguel leaving and the fall of Miyagi-Do.
Conspicuously absent is new footage of Kreese. He appears in a flashback to last season's conclusion at the All Valley Karate Championship, but was set up by Silver in that gonzo psycho Season 4 finale MacGuffin, and sent to jail. Silver has been Kreese's primary accomplice in both the films and the series. That betrayal must be avenged.
Other fresh rivalries were percolating at the end of Season 4. There's Anthony (Griffin Santopietro) versus Kenny (Dallas Dupree Young) in a well-played reversal of bullying. And what of Stingray (Paul Walter Hauser)? After that savage beat down from Silver, will he continue to cower to his sensei? And Devon (Oona O'Brian)? She was introduced towards the end of last season as a promising Eagle Fang, but her story was just beginning.
At least Hawk (Jacob Bertrand) and Demetri (Gianni Decenzo) have reconciled, their comradery restored. Hopefully their friendship can prevail.
The Penultimate Season?
We won't have to wait as long as usual for Season 5. Cobra Kai has traditionally dropped its new season in its entirety on New Year's, making for the first big binge of the year. This year, the date moved forward to September 9.
Source: Den of Geek