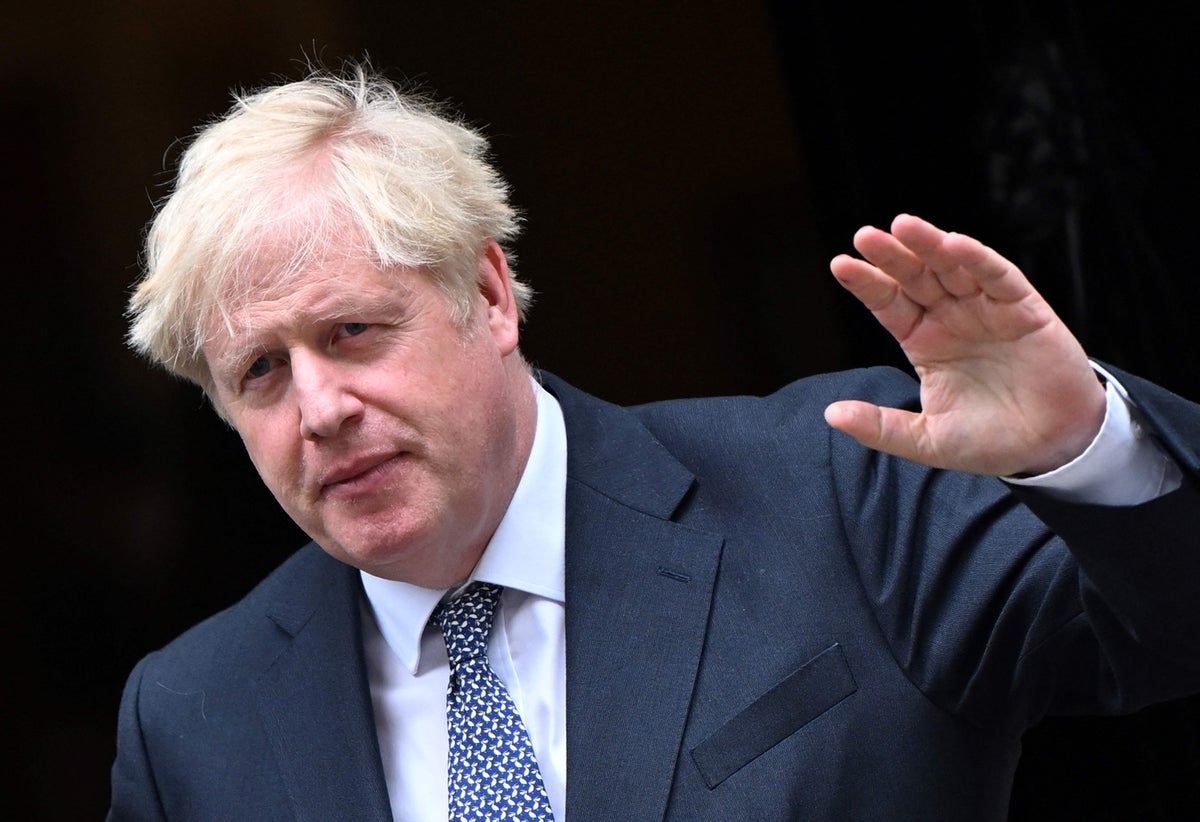 Sajid Javid says he will 'never risk losing integrity' during PMQs resignation speech
In the latest of a likely fatal onslaught of blows to Boris Johnson's premiership, Northern Ireland secretary Brandon Lewis has tendered his resignation, warning the Tory party is now "past the point of no return".
He is the fourth cabinet minister to resign after Wales secretary Simon Hart quit on Wednesday night, warning there seemed "no other option left".
The collapse in Cabinet support follows the double resignations of chancellor Rishi Sunak and health secretary Sajid Javid in response to the prime minister's handling of misconduct allegations against Chris Pincher, who Mr Johnson promoted despite knowledge of the claims.
Mr Johnson sacked housing secretary Michael Gove on Wednesday night for calling publicly on him to step down, while attorney general Suella Braverman – who remains in post – did the same and revealed ambitions to replace him as PM.
As of last night, Mr Johnson continued to defy the chorus of calls from his own team to resign, according to a senior ally, who said the PM had vowed to "fight on".
1657175965
Tory MP 'makes clear' he won't take Cabinet position
Tory MP David TC Davies – the parliamentary under-secretary of state for Wales – has made clear he will not take a Cabinet position to replace the now departed Simon Hart.
"I made clear last night that I will not take the role," Mr Davies said.
Andy Gregory7 July 2022 07:39
1657175551
Science minister tells Boris Johnson 'it can't go on'
Science minister George Freeman has written to Boris Johnson to tell him he no longer has confidence in his leadership.
Mr Freeman did not explicitly say he was quitting as a minister but his letter made clear to Mr Johnson that "the chaos in your Cabinet and No 10 this month is destroying our credibility" and "it can't go on".
Andy Gregory7 July 2022 07:32
1657175419
Damian Hinds and Helen Whately both resign
Damian Hinds and Helen Whateley have both resigned within a matter of minutes, continuing the ministerial exodus this morning.
Mr Hinds is leaving his post as a justice minister, while Ms Whately is departing as Exchequer secretary to the Treasury. Here are their resignation letters:
Andy Gregory7 July 2022 07:30
1657174859
What happens next for Boris Johnson?
A defiant Boris Johnson has made it clear he is not giving up his grip on power, despite calls from ministers and MPs across the Tory party to stand down.
No prime minister in modern history has tried to cling on to office in the face of such overwhelming opposition from their own side.
It places the ball firmly in the court of those who believe his position has become untenable.
What are Mr Johnson's options now and what can be done to remove him from No 10?
Stuti Mishra7 July 2022 07:20
1657174250
Brandon Lewis becomes fourth cabinet minister to resign
Northern Ireland secretary Brendan Lewis has tendered his resignation in the latest blow to prime minister Boris Johnson.
In a letter tweeted out by Mr Lewis on Thursday morning, he says the party is now "past the point of no return" and that he cannot "sacrifice his personal integrity anymore".
"I have gone out and defended this government both publicly and privately," the Northern Ireland secretary told Mr Johnson in his resignation letter.
"We are, however, now past the point of no return. I cannot sacrifice my personal integrity to defend things as they stand now. It is clear that our Party, parliamentary colleagues, volunteers and the whole country, deserve better."
Stuti Mishra7 July 2022 07:10
1657173059
Johnson 'needs to resign', says Matt Hancock
Former health secretary Matt Hancock says Boris Johnson "won't be the leader of the Conservative Party in a very short period of time" and soon there will be a new leader, as he expressed sadness over the events that led to this point.
Speaking to Robert Peston on ITV, the former ally of Mr Johnson said while "it's sad" that the prime minister lost the support of his Cabinet, he agrees that it's time for him to step down.
"Unfortunately, it's come to the point where he [Mr Johnson] needs to resign and he won't be the leader of the Conservative Party in a very short period of time, whether that's tomorrow or next week," Mr Hancock said.
Stuti Mishra7 July 2022 06:50
1657172159
Nadhim Zahawi's inbox is already full of impossible tasks – and he seems to have run out of ideas
Few would envy the new chancellor, Nadhim Zahawi, who comes to the job just as Boris Johnson's government crumbles faster than the UK economy, writes The Independent's business reporter Ben Chapman.
The man tasked with stewarding the country's finances has an exceptionally long to-do list.Among the challenges he faces are a cost of living crisis, a looming recession and rising interest rates that will push up the cost of government borrowing.
There is the potential for Zahawi to be in the job for only a matter of days.
But, if Johnson's government survives, what are the chancellor's priorities and how might he deal with them?
Stuti Mishra7 July 2022 06:35
1657171259
1922 Committee steps back from rule change to force out Johnson
The powerful 1922 Committee of Conservative backbenchers have pulled back from a threat to change party rules to allow another confidence vote in Boris Johnson.
The group decided it would be unfair to ditch the 12-month grace period currently enjoyed by the prime minister before committee elections can take place on Monday.
However, a source on the committee said the group does not expect Mr Johnson to remain in power until Monday.
My colleague Adam Forrest has more on this:
Stuti Mishra7 July 2022 06:20
1657170479
Johnson 'now like Putin', says a former ally
Boris Johnson's move to sack Michael Gove, reportedly without any consultations, is causing resentment within the Conservative party as members now accuse the prime minister of being "detached from reality".
BBC Newsnight's political editor Nicholas Watt has tweeted that an unnamed former ally of Mr Johnson told him that the move to sack the senior cabinet minister was an act of "revenge".
"Sacking Gove is revenge. But Boris is now detached from reality. He is now like Putin," Mr Watt said he was told.
Stuti Mishra7 July 2022 06:07
1657169779
ICYMI: Johnson refuses to resign after dramatic No 10 confrontation
The prime minister told the delegation he plans to "fight on" despite an extraordinary collapse in support that included more than 40 resignations.
He told colleagues he remains "focused on the important issues facing the country", The Independent was told. His refusal to resign led to Welsh secretary Simon Hart quitting cabinet hours later and set the scene for further likely walkouts to come.
Our deputy political editor Rob Merrick reports:
Stuti Mishra7 July 2022 05:56