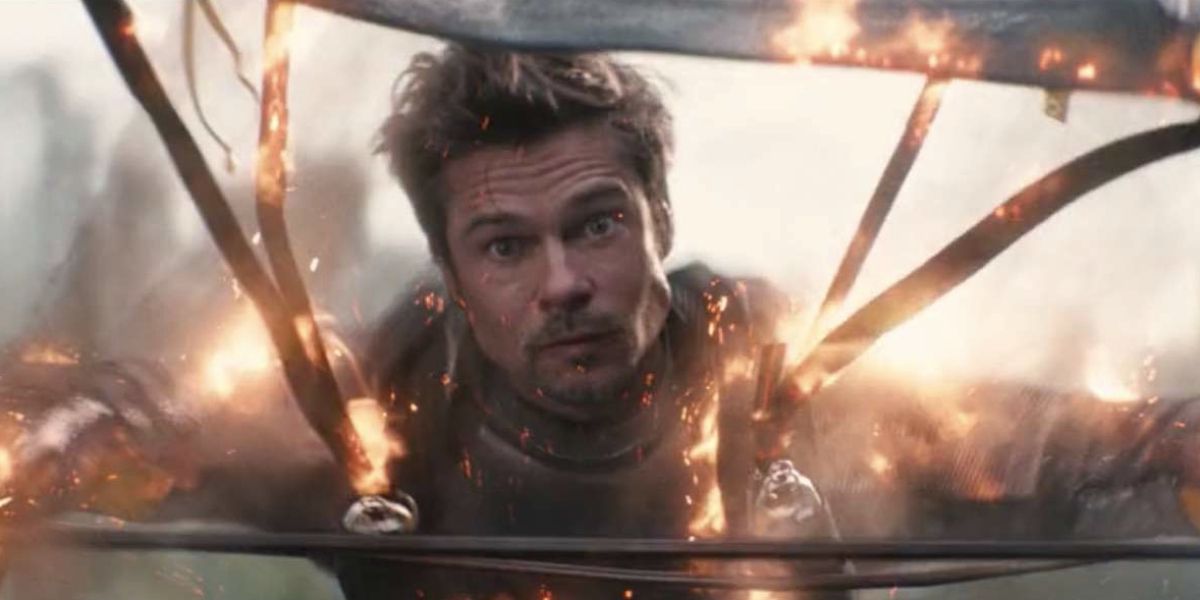 Deadpool 2 has many celebrity cameos and hilarious moments, but one scene stands above them all with a surprise appearance from one acting legend.
Brad Pitt recently talked about his cameo in the 2018 Marvel sequel as The Vanisher during a press tour for his upcoming film, Bullet Train. During a BBC Radio 1 interview with Ali Plumb, Pitt discusses his blink-and-you'll-miss-it role, which he calls "the easiest thing I've ever done." The role was also an opportunity to once again work alongside Deadpool 2's director, David Leitch. Regarding their history and Leitch's success, Pitt said, "Dave's an old friend of mine, and he used to be… he was my stunt double starting with Fight Club and all the way up till about '04." Now, the upcoming action-comedy Bullet Train will see their latest collaboration, with Pitt playing an assassin whose mission quickly goes off the rails.
RELATED: Ryan Reynolds Photo Signals Start of Deadpool 3 Training
The Vanisher, as his name suggests, has never been seen before. He was even able to make it onto Wade Wilson's team of mutant and alien all-stars without being visibly present. This led to theories that the character may have never really ever been there at all. However, it was proven false when a seemingly empty parachute caught onto electrical wires and fried a now visible Vanisher played by none other than Pitt.
Interestingly, the history of the Vanisher goes back to the beginning of Marvel Comics' mutant lore, first appearing in X-Men #2 (1963), as credited to creators Stan Lee and Jack Kirby. While the character maintained longevity over decades' worth of comic storylines, he largely remained obscure. Appropriately enough, the character's role in Deadpool 2's aforementioned X-Force skydiving scene is only a few minutes long, and Pitt's actual onscreen appearance is even shorter.
RELATED: Bullet Train: Hiroyuki Sanada Details the Thrill of Improv with Brad Pitt
According to an interview from The Hollywood Reporter, around the time of Deadpool 2's release, Paul Wernick, the film's writer, mentioned that Vanisher was never intended to appear onscreen. However, the idea of the Vanisher getting wrapped up in wires inspired the surprise appearance. Wernick stated, "Oh my god, what a perfect idea for a celebrity cameo." That quickly got the ball rolling and led to the Deadpool 2 team searching for the "hardest get in Hollywood."
However, besides being a favor for an old friend in Leitch, Pitt took the Vanisher role turned out to be just a fun little cameo. After seeing how the Deadpool franchise rejuvenated the career of star Ryan Reynolds, fun might have been something the A-lister was seeking when he got the call about appearing (in a manner of speaking) in the film. "Ryan called and like, why not?," Pitt said.
RELATED: Brad Pitt Defends Ana de Armas' Blonde Performance as Marilyn Monroe
Movie lovers can see Pitt for significantly longer than his role as The Vanisher in Bullet Train, which is now playing in theaters.
Source: BBC Radio 1 via The Direct