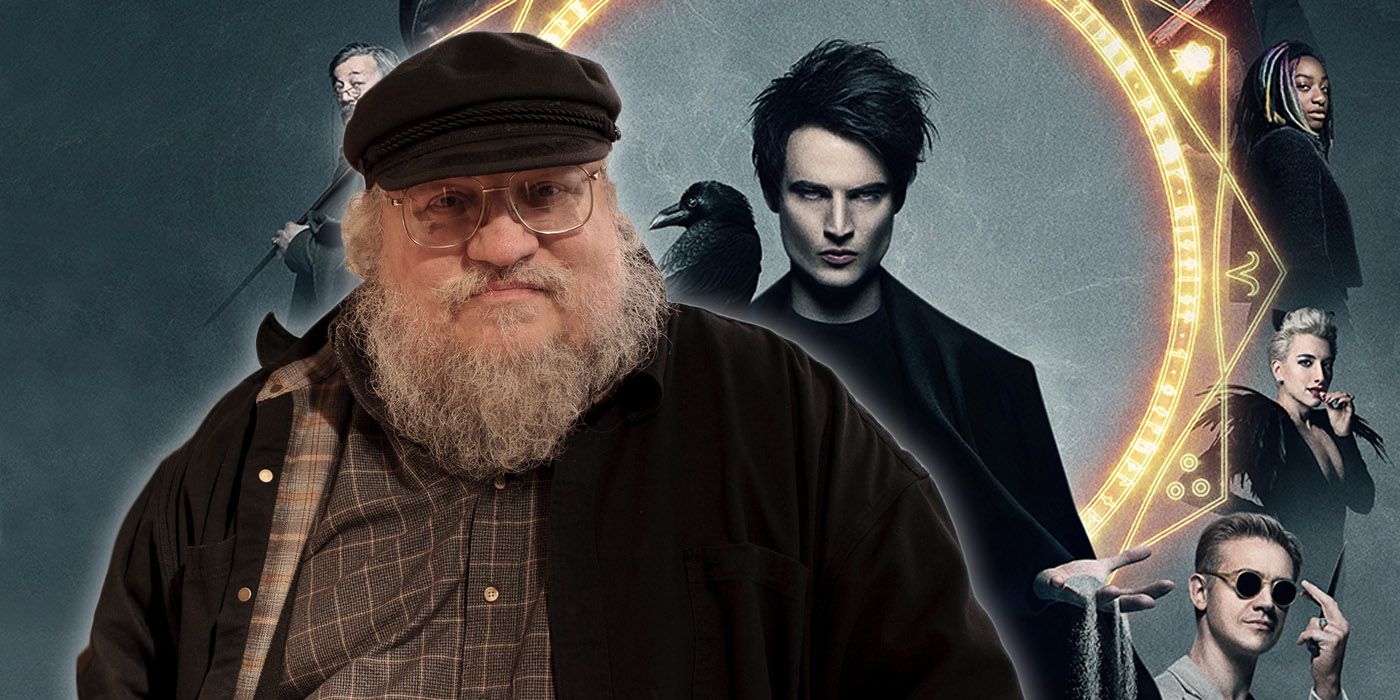 Netflix's The Sandman is conjuring rave reviews for its stylistic approach to Neil Gaiman's classic DC Comic, but it's a safe bet that the recently posted reaction of Game of Thrones author George R.R. Martin will be considered a prominent feather in the proverbial cap of the showrunners, who count themselves as his fans.
The series, which premiered all 10 episodes of its inaugural season on Netflix on August 5, gained a valued proponent in Martin, as evidenced by a post made on his Not a Blog website. It seems that, while recovering from a positive COVID diagnosis shortly after San Diego Comic-Con, the famed writer had time to watch The Sandman, which left him more than impressed. "Oh, and while in quarantine, Sid and I watched Neil Gaiman's new show, THE SANDMAN," Martin said. "Neil had been kind enough to send up an advance copy. Guys, gals, don't miss this. If you loved the comics, well, this is a VERY faithful adaptation, Neil saw to that. And if you never read the comic, don't worry, not required, the TV series stands on its own. It's a fabulous fantasy, and I rope it will run for many more seasons. There are, after all, many more issues of the comic to adapt."
Related: Sandman Fans Are Voting to Rename Goldie 'Irving'
The arrival of The Sandman marks the long-awaited live-action manifestation of Gaiman's landmark comic series after decades of mooted plans — for both films and television projects — over at Warner Bros. studios that never bore fruit. In fact, the franchise plans would be backlogged in lieu of a spinoff of sorts in the form of the TV series Lucifer, which centered on the playful Los Angeles-residing version of the devilish fallen angel from Gaiman's Sandman comic lore, as played by Tom Ellis. That series, which started life in 2016 as a network-run murder-mystery procedural series on Fox, was cancelled after three seasons, which led to a rescue by Netflix (fortuitously enough), which carried the series to a Season 6 finish line in 2021.
While The Sandman does not take place in the same continuity as the show centered on Lucifer — who is played here by Gwendoline Christie — the concluded series proved to be an important step toward the long-sought adaptation for the REM-weaving exploits of Gaiman's Lord Morpheus of the Endless, a.k.a. Dream, played by Tom Sturridge. Additionally, the property's eventual live-action debut seemed to depend on the rise of so-called peak content television, a revolution in cinematic-style quality for small screen offerings that owes a large part to the success of Game of Thrones, which debuted on HBO back in 2011. Indeed, Gaiman made his awareness of this fact known in a recent interview, in which he — tangentially referencing The Sandman's casting of Game of Thrones alumni in Christie and Charles Dance — confesses, "I explained to Gwendoline the other day, while we were walking around the car, I said, 'Of course, George has never let me forget that I owe Sandman to him."
Related: Sandman: Neil Gaiman Shares the Tweet That Led to Casting Netflix's Desire
Consequently. Martin's rave review of The Sandman was also a receipt for that recent compliment. The series, which sees showrunner Allan Heinberg adapt the comic under the watchful executive producer involvement of Gaiman, whose signature style resonates quite prominently onscreen. Moreover, the kind words also address what Martin subtly called "not the greatest decision I made in my editing career," in which he passed on a pitch by a young Gaiman for The Sandman to be included in his 1987-launched Wild Cards literary anthology series. Thus, the author's salutations are also a way to admit what was, in hindsight, a costly mistake.
The Sandman is available to binge right now on Netflix. Additionally, House of the Dragon, the next live-action manifestation of Martin's Game of Thrones franchise, hits HBO on August 21.
Source: George R.R. Martin