Cosplayer Melissa Croft shows what Deadpool and Spider-Man might look like in the aftermath of fighting each other with incredibly detailed bodypaint.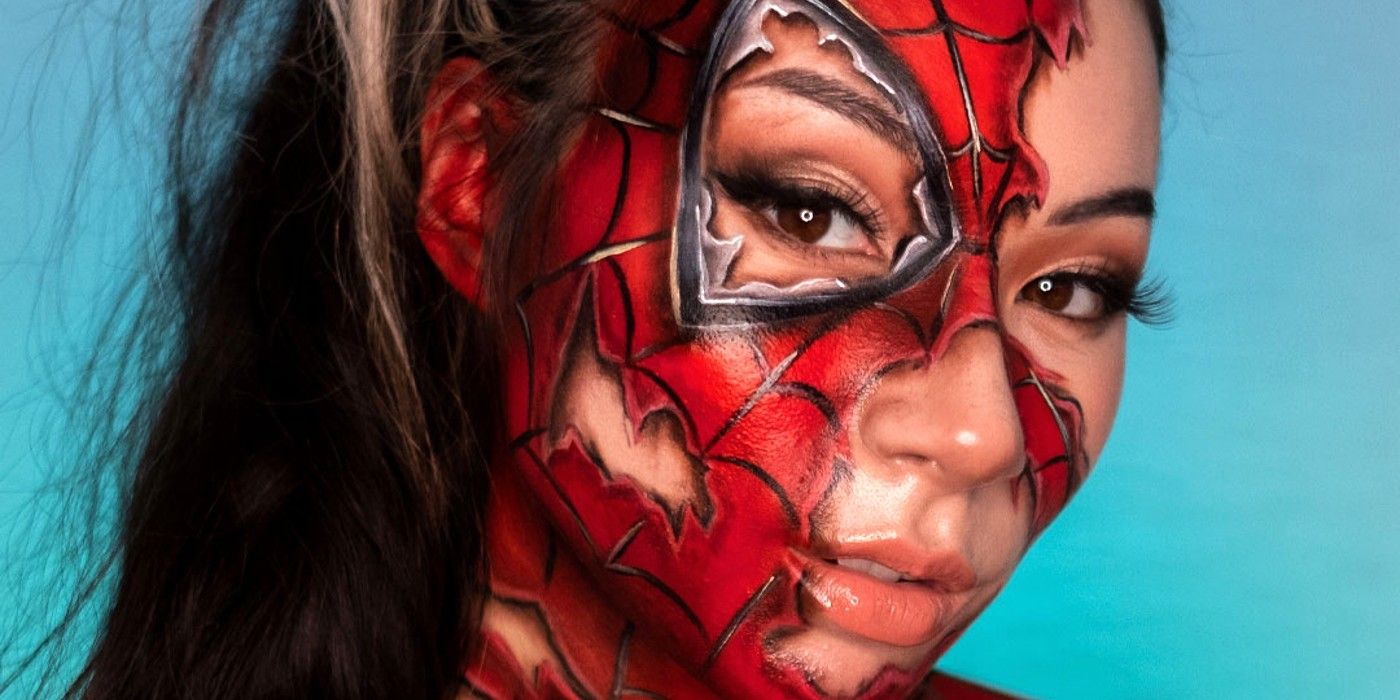 Cosplayer Melissa Croft shared new images of two detailed bodypaint depictions of Marvel characters, Deadpool and Spider-Man.
Croft, a bodypaint artist and cosplayer, shared the two images on Twitter of her painted as both Deadpool and Spider-Man, though both of their suits had been damaged in what appears to be a battle between them. In the caption, the artist asks fans who they think won the fight: Deadpool or Spider-Man. Both costumes show similar injuries, with mild tears on the upper chest and neck, and major tears to both heroes' masks revealing both eyes, and the nose and mouth.
RELATED:Anime Convention Bans Non-Manga Character Cosplays
Deadpool and Spider-Man are frequent friends and allies in Marvel Comics but have yet to meet in the live-action Marvel Cinematic Universe. However, now that Fox is owned by Disney, Ryan Reynolds will soon make his MCU debut in the upcoming Deadpool 3, directed by Shawn Levy. Set to be released in 2024, Deadpool 3 will also mark the MCU debut (and resulting return) of Hugh Jackman as the iconic X-Men, Wolverine.
Deadpool Vs. Spider-Man in the MCU?
In 2019, when Deadpool's transition to the MCU was first announced, fans hoped that the Merc With A Mouth to make an appearance in the then-upcoming Spider-Man: No Way Home. However, Marvel Studios President Kevin Feige debunked these rumors, though he did not completely rule them out. "We're certainly having conversations about the future of all of those Fox properties," he said at the time. "How to weave them in and when to weave them in. That one, in particular, is not the case."
RELATED:Deadpool 3 Taps Spider-Man: No Way Home Stunt Lead George Cottle
Details regarding the plot or further casting details for Deadpool 3 have not yet been officially confirmed by Marvel Studios. Other than the return of Reynolds, the third entry in the film series will see Jackman return as Wolverine for the first time since Logan in 2017. Reynolds has previously confirmed that Deadpool 3 will not interfere with the continuity of Logan, saying that the 2017 film "takes place in 2029. Totally separate thing. Logan died in Logan. Not touching that."
This will also be the first time both Reynolds' Wade Wilson and Jackman's Wolverine have appeared on screen together since the X-Men Origins: Wolverine in 2009. No other actors are yet confirmed, including any potential crossover characters from the MCU, although Deadpool 2 character Domino, played by Zazie Beetz, is reportedly set to return.
Deadpool 3 is expected to release in theaters on Nov. 8, 2024.
Source: Twitter