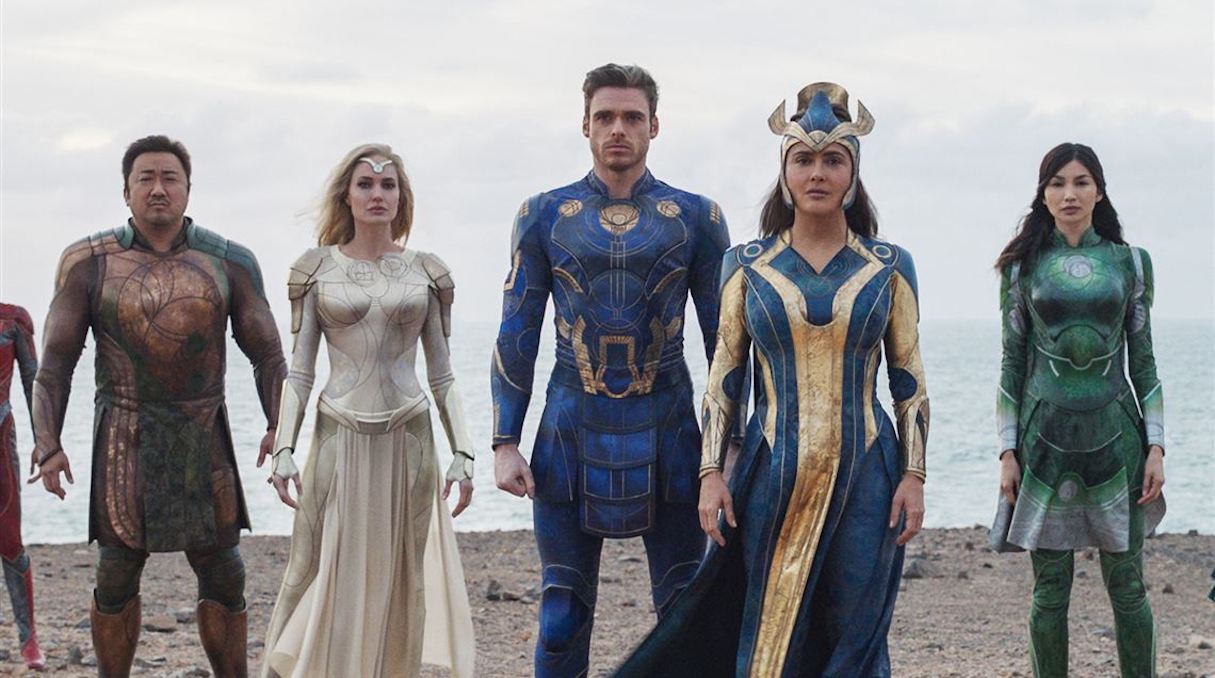 One might even argue Marvel itself has never captured it as organically as its originator, Joss Whedon, whose screenplay for The Avengers set the template. Still, the MCU has been able to finely tune the self-aware winks as a way to gloss over third acts that often rely on a numbing overabundance of meaningless MacGuffins and lifeless CGI spectacle.
However, unlike every other Marvel Studios movie released in the last five years not named Endgame, the third act of Eternals is its strongest section instead of its weakest. That's because Zhao and company keep the film squarely rooted in the motivations of its main characters, especially Sersi (Gemma Chan), Ikaris (Richard Madden), and Sprite (Lia McHugh).
The relationships between these three characters and the rest of the surviving Eternals at-large is what makes the finale compelling instead of being a time-filler. There are also the usual "end of the world" stakes here, albeit embodied by the surreal image of a giant space-god (or "Celestial") climbing out of the earth's core instead of another generic sky-beam or falling sky fortress. Additionally, those stakes are simply a context for a passion play between our leads.
Ikaris, as it turns out, is the film's villain. Despite looking like Marvel's version of Superman (a fact the film blatantly calls out), the Eternals' golden boy has lived for centuries with the knowledge that their mission to "help" humanity evolve was merely a prelude to a massive genocide where a Celestial is born and consumes all life on Earth. Knowledge of this horror drove Ikaris away from his lover Sersi for the last 500 years, and he'll be damned if he must now change his mind at the last minute like his more empathetic leader, Ajak (Salma Hayek). So he kills Ajak and will even raise his hand against Sersi to ensure their primary duty is fulfilled.
Yet, most intriguingly, Eternals refuses to fully reduce Ikaris to "the bad guy" in usual superhero movie fashion for these actions. He's a traitor among their ranks, but even if his mission is to destroy all life on Earth, the film at least plays devil's advocate to see things from Ikaris' point-of-view. And since it knows the audience is conditioned to not listen to anything he might say after it's revealed he murdered Ajak, the film has that viewpoint espoused by… Kingo, Kumail Nanjiani's lovable side character.
Up to that point, Kingo has been the sole comic relief in the whole film, but when faced with the choice of letting Earth die or preventing thousands of new stars and other worlds from ever existing thanks to another Celestial, Kingo sides with Ikaris.
Source: Den of Geek