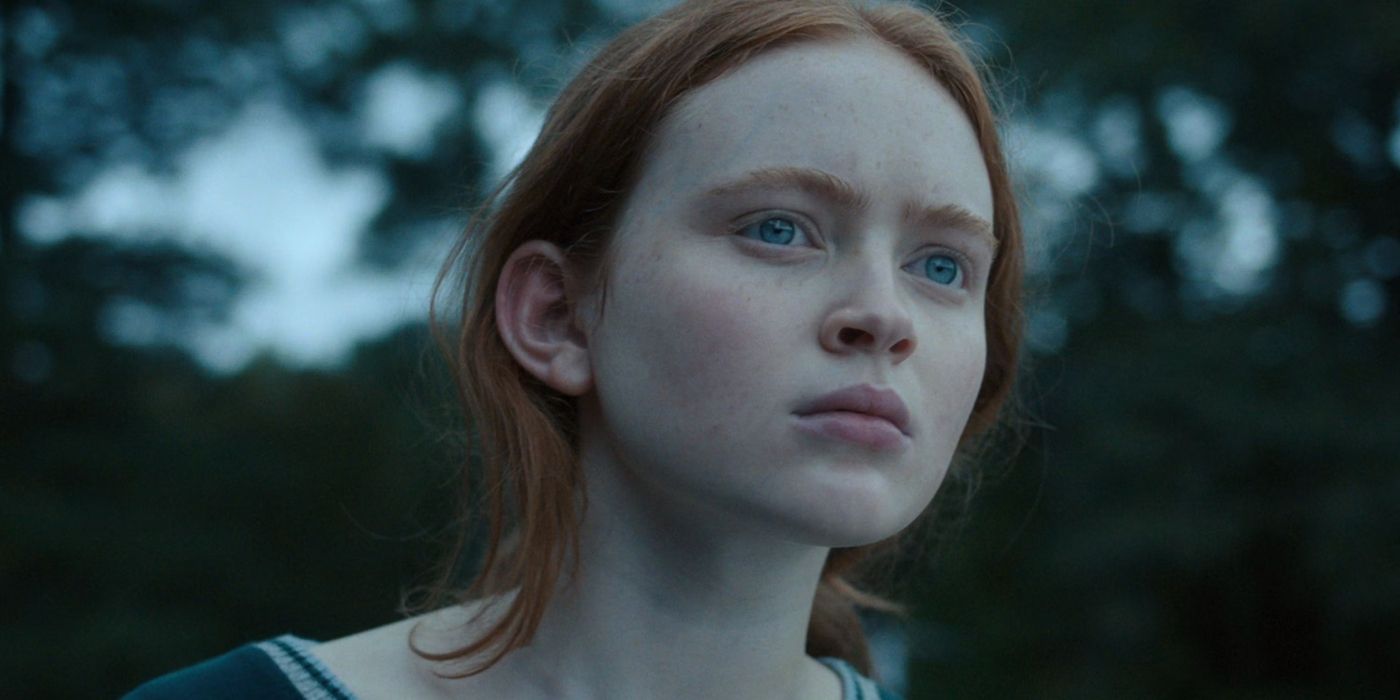 Stranger Things creators Matt and Ross Duffer confirmed the tragic Season 4 fate of Sadie Sink's Max Mayfield.
While appearing on the Happy Sad Confused podcast, the Duffer brothers were asked about the fates of various characters at the end of Season 4, Volume II. When asked if Max was still alive, Matt Duffer responded, "Right. Yeah, she's brain-dead, but she's alive. Brain-dead and blind." Ross Duffer added, "And all of her bones broken, but she's doing great."
RELATED: Stranger Things' Final Season Will Likely Be Much Shorter Than Season 4
Sink joined the cast of Stranger Things Season 2 in 2017, along with her aggressive, vindictive step-brother Billy Hargrove (Dacre Montgomery). While Billy's demise in Season 3 came as a redeeming moment for the character, the shadow of Billy's death was a powerful weapon used against Max by Season 4's main villain, Vecna. Leading up to the July 1 release of Season 4 Volume II, the internet was rife with speculation about Max's fate. In the end, Max was brought to the verge of death by Vecna, though his gruesome process of claiming victims was ultimately cut short in a harrowing fashion.
Stranger Things Goes Horror
The Duffer brothers have discussed how the three-year-long break after Season 3 allowed for the main cast to grow, leading to a more mature, horror-centric tone for Season 4. "When we pitched it to Netflix all those years ago, we pitched it as the kids are… The Goonies in E.T.," said Duffer. "But this year, we don't have the kids. We can't do The Goonies anymore. And so, suddenly, we're leaning much harder into that horror movie territory that we love. It was fun to make that change."
RELATED: Stranger Things: Jamie Campbell Bower Details Sympathizing With Vecna
Despite several gruesome deaths over the course of Season 4, the Duffer brothers have endured some serious chiding from the main cast over their hesitance to kill off any main characters. According to Matt Duffer, star Millie Bobby Brown has referred to the creators as "Sensitive Sallies." "We've explored all options in the writing room," Duffer said. "Just as a complete hypothetical, if you kill Mike, that's depressing. We aren't Game of Thrones. This is Hawkins, it's not Westeros."
Though details of where Stranger Things is headed next have been vague, the creators promised that there are only so many directions the story can go from where it left off at the end of Season 4. "Usually at the end of a season, we tie things up with a nice bow before a little tease that says, 'Hold on, something is unraveling,'" Matt Duffer said. "As we move into season 5, we don't have to do that." He added, "There won't be a reset from where we finish this season."
Stranger Things Season 4 is currently available to stream on Netflix.
Source: Twitter