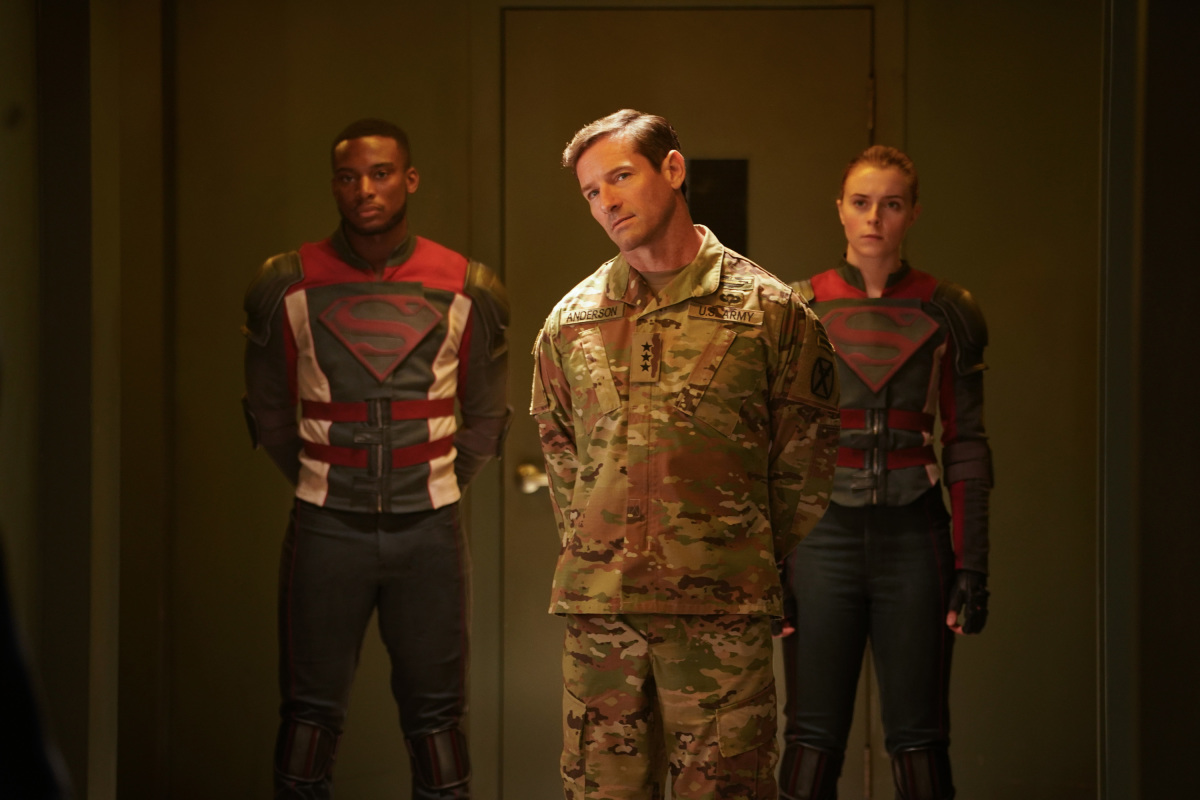 AmerTek
It's AmerTek who is mining the X Kryptonite from the Shuster Mines, and they're a company that has popped up periodically in the Arrowverse over its history. Of course, in the comics, AmerTek was the place John Henry Irons worked before he became Steel, and the weapons he helped manufacture there were a key part of why he decided to go into superheroing. But we're slightly less interested in AmerTek at the moment than we are in one of their employees…
Dr. Faulkner
Assuming that the Dr. Faulkner in charge of the AmerTek mining operation is Dr. Karen Faulkner, well…she might be headed for some action, too. In the comics, Dr. Faulkner becomes the superhuman Rampage (think an orange She-Hulk when Shulkie isn't in control of herself and practicing law…but with a mohawk…and radioactive). There's no reason to believe that something like, oh I dunno, an earthquake at the X Kryptonite mine that she's working at would expose her to enough radiation to give her dangerous, uncontrollable, rage-driven superpowers is there?
Allie Allston
Even a name heard on a podcast as the series explores Lois' arc this season is a tease for a potential villain. Here, it's Allie Allston, the former leader of a possibly NXIVM style cult, who ensnared Lois' sister Lucy (who hasn't been seen in the Arrowverse since Supergirl, but who is due to appear later this year on Superman & Lois) and drove her to a suicide attempt.
In the comics, Alexandra Allston was a new version of the Parasite, able to feed off of energy from a variety of sources, including people and especially Superman. We've seen Parasites in the Arrowverse before, so this would be a new one. And there's of course something delicious about some scam-ass cult leader being a parasite. And since teams seem to be the order of the day, let's just mention that Alexandra was recruited by Lex Luthor (hmm…him again) to join the Secret Society of Super-Villains for a spell.
Doomsday
There's a real beauty to the way Superman & Lois is teasing out its Doomsday introduction. In the comics, in the months leading up to the launch of the Death of Superman story proper, the final page of each Superman book would just feature a green-gloved fist, relentlessly pounding away at a metal wall in a mysterious underground bunker, with each issue that wall giving way a little more, and a little more of the spiky flesh beneath the glove becoming visible. We're basically getting the visual equivalent of that here, and it looks like we'll finally get the full reveal next week.
But there's something else going on here, too! It seems that the show is adding a new wrinkle to Doomsday, with the monster seemingly having some kind of psychic link to Superman. Honestly, it was never all that satisfying that Doomsday could simply beat Superman to death, but here, he seems to be channeling something else, and it's affecting the Man of Steel in debilitating fashion.
Source: Den of Geek