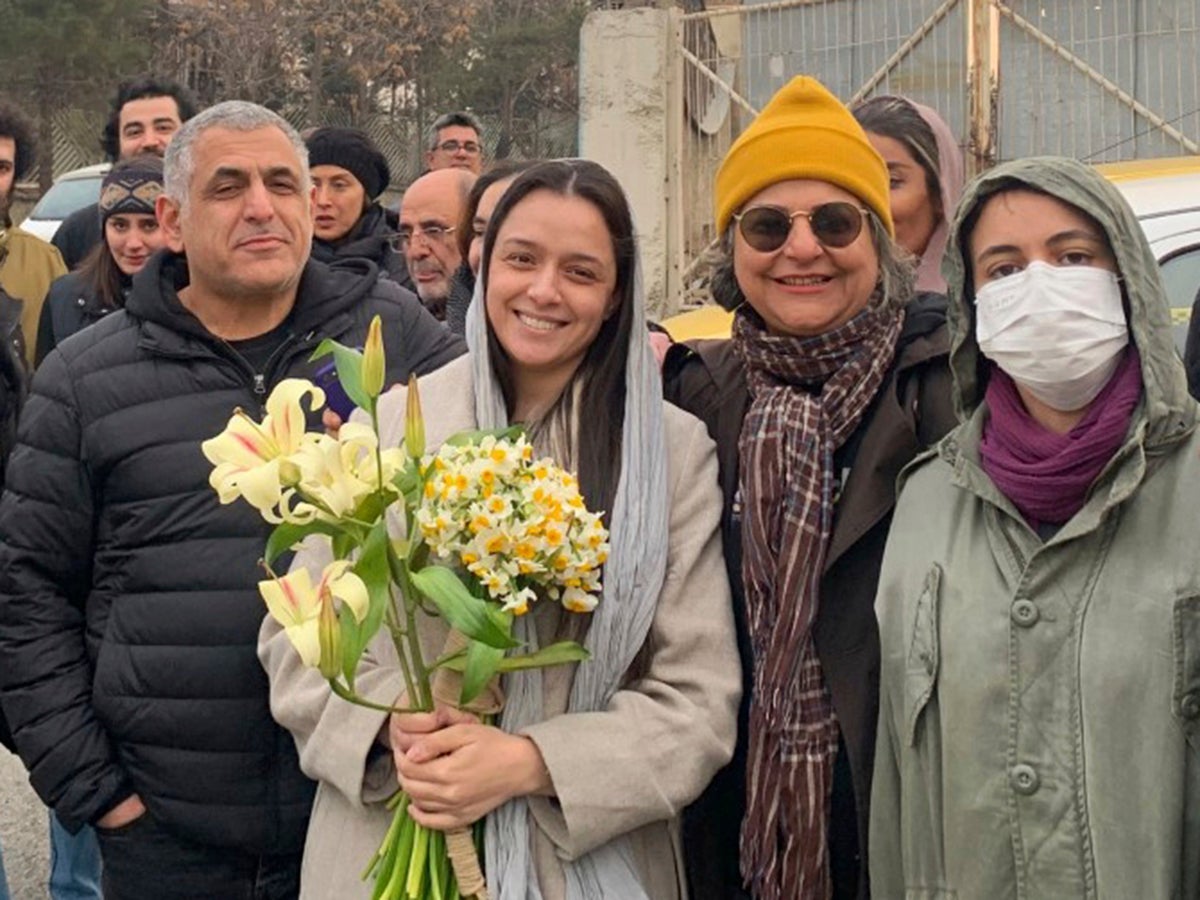 One of Iran's top actors has been freed from prison on bail, more than two weeks after being jailed for speaking out against a crackdown on anti-government protests.
Oscar-winner Taraneh Alidoosti, holding a bouquet of flowers and posing with family and friends welcoming her as she emerged Wednesday afternoon from Tehran's notorious Evin Prison. Her mother, Nadere Hakimelahi, had earlier said she would be released in a post on Instagram and it was reported by the semi-official ISNA news agency.
Alidoosti was the female lead in Asghar Farhadi's Oscar-winning 2016 film "The Salesman." She was arrested at her home 17 December after she spoke out publicly about the execution of Mohsen Shekari, a 23-year-old charged with injuring a member of Iran's security forces during a protest.
Mohsen Shekari was executed Dec. 9 after being charged by an Iranian court with blocking a street in Tehran and attacking a member of the security forces with a machete. A week later, Iran executed a second prisoner, Majidreza Rahnavard, by public hanging. He had been accused of stabbing two members of the Basij militia, which is leading the crackdown.
Alidoosti had posted at least three messages in support of the protests – triggered by death 22-year-old Mahsa Amini in police custody before excalating widespread calls for the overthrow of Iran's ruling clerics – on Instagram before her account was disabled
Outspoken since the start of the protest movement, her arrest prompted shock and outrage across the world. She was reportedly released on bail equivalent to about £200,000. Iranians typically must put up the deed of their own or a family member's home as collateral.
The regime of Supreme Leader Ali Khamenei has been struggling to silence well-known Iranians in the fields of art and sports from publicly supporting the protest movement. Authorities recently forced the return of a Dubai-bound passenger plane carrying the wife and daughter of famed Iranian footballer and supporter of the protesters Ali Daei, preventing them from traveling abroad.
High-profile Iranians held in prison are often released on bail quickly. The length of Alidoosti's detention suggests Iran's rulers wanted to make an example of her, sending the message that it would harshly punish even the most well-known luminaries, much less ordinary Iranians caught up in the protests.
Late on Tuesday, security forces arrested some 30 people in the small Iranian Kurdish town of Javanrud, a town of near-constant nightly protests.
On Tuesday, the Khamenei regime's highest court affirmed death penalty sentences for two more protesters, Mohammad Mahdi Karami and Seyed Mohammad Hosseini. Each was accused of killing members of the security forces, but the lawyer for one of the condemned said his client had alleged his confession was extracted under torture.