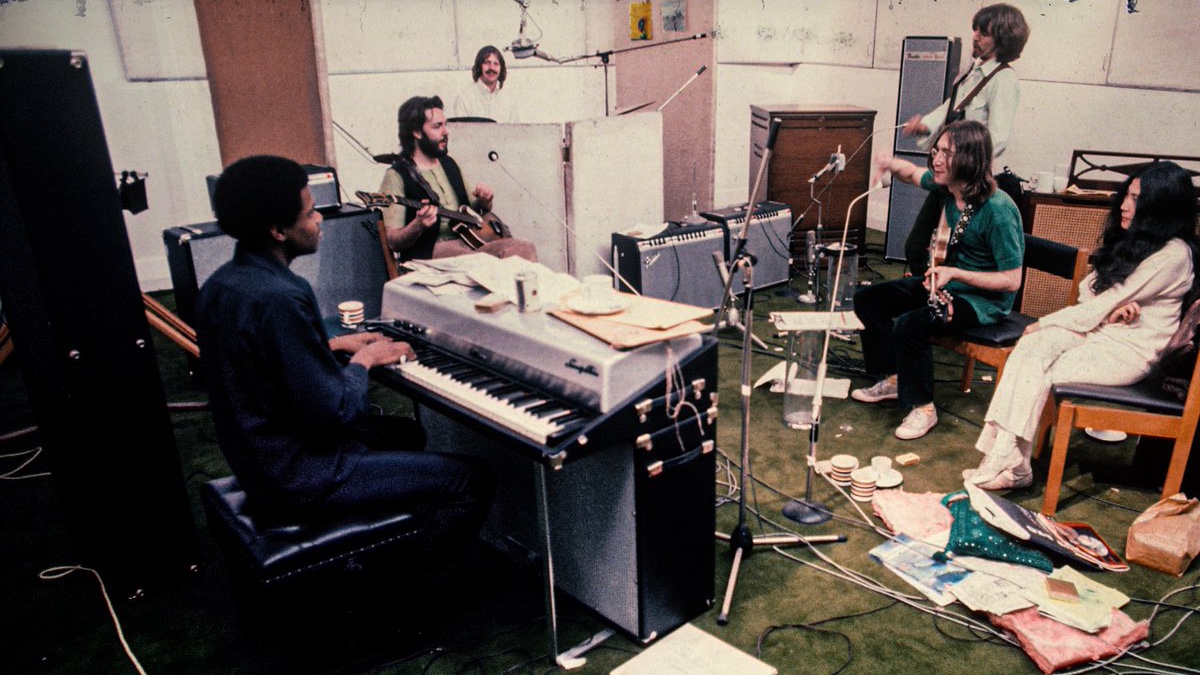 Yes, not enough can be said about the cleanup. There is a clip from the Cavern club which has been so cleaned up, you can see individual beads of sweat on the band, and on the walls. This clip was in Anthology and the Malcolm McDowell-narrated The Compleat Beatles, and it always looks like it was shot through a dirty lens on used film stock from across the street. Jackson makes it look like yesterday's news, not 52-year-old footage. But some of us would watch eight hours of the crappy footage, especially cut right. Remember, most of us have only seen and heard this on shitty board mix bootlegs.
Which brings us to the audio, which is equally superb. Forget the songs we all know, the ones on the album and which were given on the Anthology compilations. The snippets of covers the band plays have never been this clear and fully produced. Most of what's gotten out to the public sounds like the original film is reputed to make people feel, but the sonic redemption here is a wonderful tease of fun performances. Jackson only doles out the best bits, but with the cleanup, his 18-hour director's cut becomes a must-do. You already cut it, Mr. Jackson, there is an audience for it. Give with it.
THE COVERS
The snippets of the band running through Bob Dylan's "Mighty Quinn" and "I Shall Be Released" should be released, in full, or as far as the Beatles got into it. The other thing the bootlegs made clear is the band might jump into a number for a few bars, and either merge it into something else or just drop it outright. What the documentary does show, however, is how much they were listening to the music which was going on at the time. During several segments we see Lennon holding The Rolling Stones' Beggar's Banquet album.
The Beatles jam through quite a few unexpected popular contemporary and traditional numbers. They perform "You Are My Sunshine," "Queen of the Hop," revisit Jerry Leiber, Mike Stoller and Richie Barrett's "Some Other Guy," and even their own "Help!." Jackson skips the wonderful rendition of Mario Lanza's hit "Besame Mucho," which is a shame, especially since we've only seen Lennon's happy reaction to it. Paul is an expert vocal mimic, and besides his standard Elvis turn, gives spot on impressions of Canned Heat, down to the country feel, and up to vaudevillian voices. He and Lennon fall easily into some of the harmonies of their favorite teenage pop platters.
Lennon and McCartney obviously remember every single Everly Brothers harmony they probably sang to each other on tour buses to pass the time. They do a lot of wop bop a loo bop, but dip into enough diversity of the rock and roll and rhythm and blues covers to let us know they were serious students of the music, and avid listeners.
Lennon always bent a knee to Chuck Berry, co-leading with George on "Johnny B. Goode," taking "30 Days" all to himself, and performing "Rock and Roll Music" at the same tempo as their performance at Budokan, and yes, I know this Beatlemaniac wrote it was overlaid to Shea Stadium, but it was eight hours after I saw it, it hit the proper emotional note better, and I was on a deadline. Jackson's entire film is about deadlines, and The Beatles show how musical mistakes can be capitalized on and added to the mix. There's a rushed guitar on "Dig a Pony" which made the final cut. The Beatles also know when to skim well-worked-out arrangements that get too busy, as they do with the "all I want is" intro and outro of the song.
Source: Den of Geek