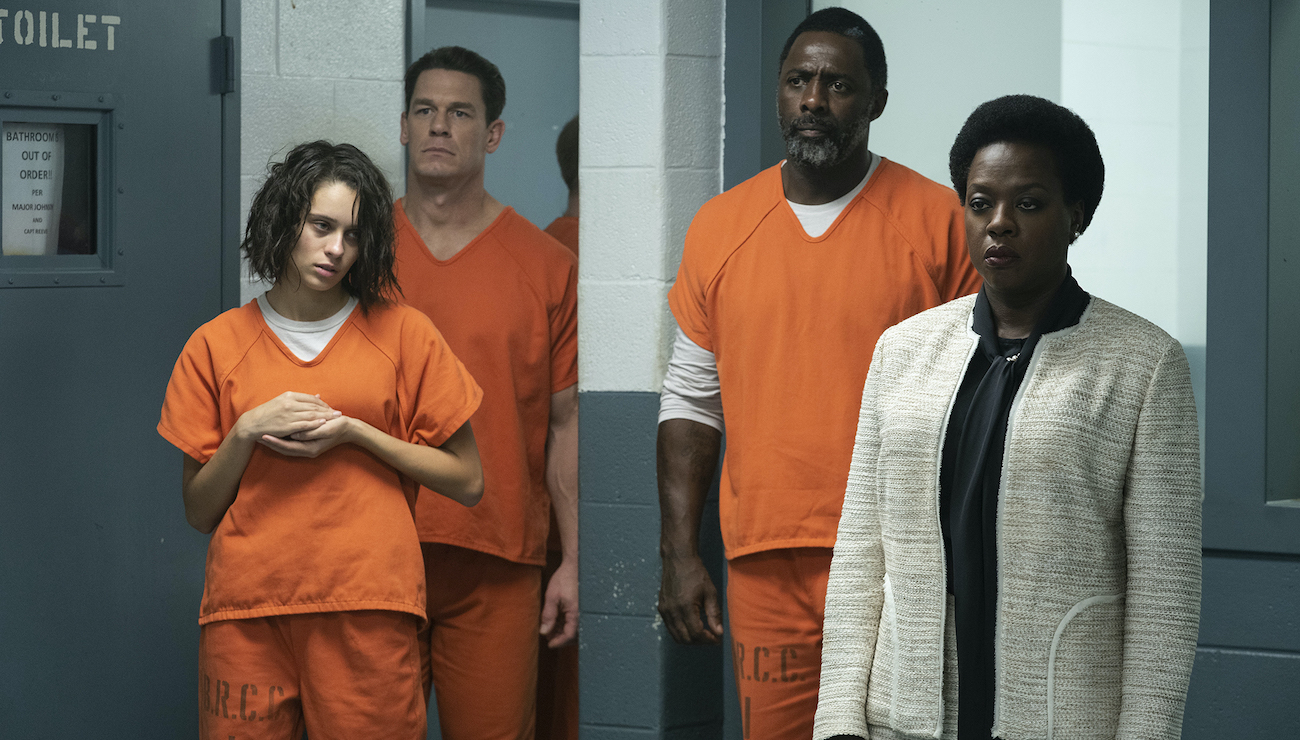 What irony it is then that it took James Gunn's The Suicide Squad to reveal five years later that the franchise and larger DCEU has had a great villain this whole time. Viola Davis did not originate the role of Amanda Waller in this weekend's R-rated superhero sequel, but she certainly perfected it. What was already a formidable screen presence in an otherwise cluttered mess of a movie a half-decade ago has come into chilling focus here, and Davis has revealed she can give the scariest of performances within only a handful of scenes. Despite Gunn's semi-sequel/semi-reboot being full of laughs, there's nothing smirking about Davis' constantly simmering ferocity.
In 2016's Suicide Squad, Davis had more screen time and ostensibly more "badass" moments than she would in Gunn's movie. In the final cut of that earlier film—which it should be noted is a version director David Ayer has more or less disowned—Davis gets the pre-title cards' biggest entrance, with the soundtrack unimaginatively playing "Sympathy for the Devil" as she walks into close-up toward the screen. She also factors much more centrally to that movie's plot, including in a scene where she is shown to murder her own technical engineers and assistants in the hope of covering up her culpability in that film's messy plot.
Nevertheless, all of these moments intended to highlight her as a scary presence are as ham-fisted as the "damaged" tattoo on the forehead of Leto's Joker. Davis, a powerhouse performer and one of the best actors of her generation, will always give a hundred percent on screen, but the characterization of her government mastermind always seemed underserved by the script's broad characterization back then.
In The Suicide Squad, Davis plays the same shady lady: a morally ambiguous figure who finds different ways to blackmail incarcerated supervillains into going on suicide missions to "save the world." Yet despite being far less central in this movie's plot, Davis comes to dominate it as the true ultimate big bad. To be sure, there's also a giant starfish called Starro the Conqueror, who acts like a cross between Godzilla and the facehugger in Alien. And yet, that creature is largely a physical menace in the end, and one that Gunn's screenplay even sympathizes with. Starro ultimately comes off like an intergalactic King Kong who's been kidnapped by humans to perform in the big bad city.
But Waller? She isn't empathized with once by Gunn, and she is given ample opportunities to reveal a utilitarian cruelty that feels grotesquely real. It's all fun and games at first in the opening sequence where Task Force X's A-team is sent to be butchered on the shores of the Corto Maltese beachhead. When poor, dimwitted Savant (Michael Rooker) attempts to run away from the slaughter, Gunn's camera almost fetishizes Waller's power as she detonates the bomb in his neck, splattering his brain matter across the waves.
A sequence like that is expected in a movie like The Suicide Squad, and the coldness of her choice to pull the trigger on one of her own men is almost a gleeful confirmation that this movie will be going much harder than the 2016 version. However, as the picture progresses, the absolute indifference toward human life Davis embodies stops being a laughing matter.
Source: Den of Geek