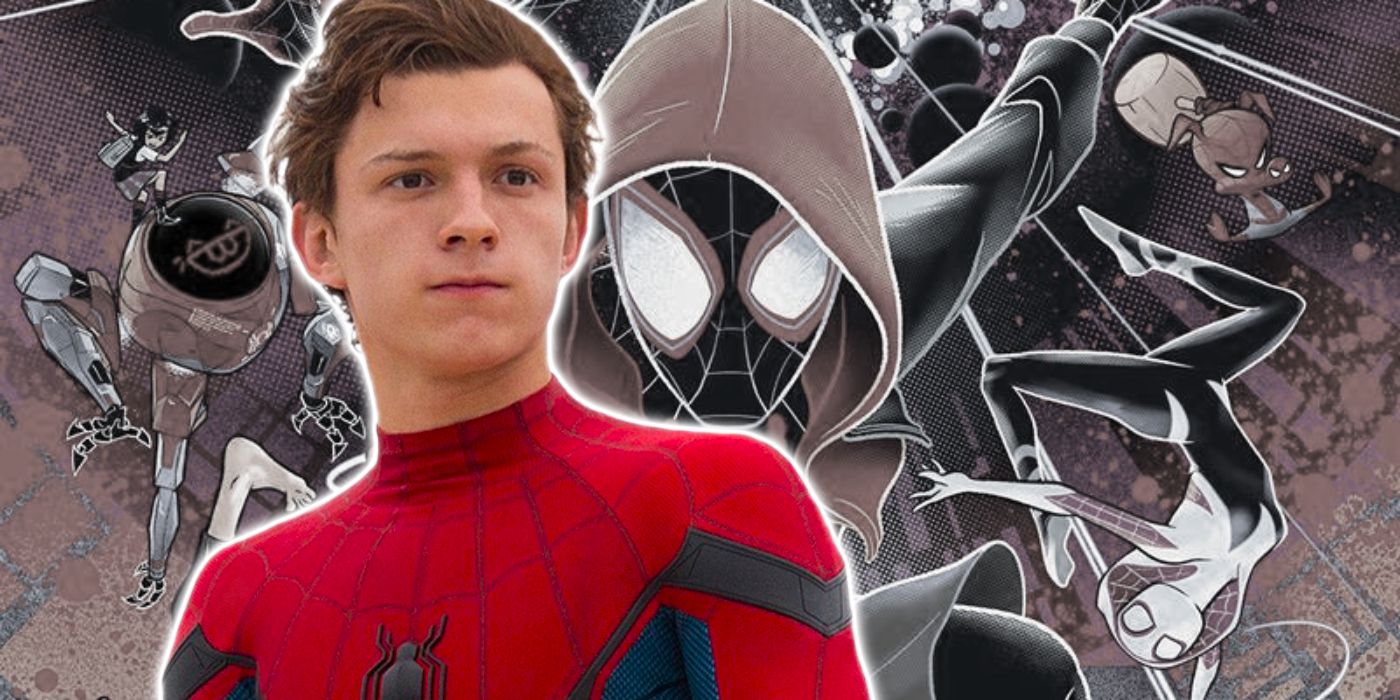 Tom Holland has starred as the Marvel Cinematic Universe's Peter Parker/Spider-Man since 2016 — though the actor's favorite movie featuring the iconic superhero is one he actually had nothing to do with.
Per Variety, Holland named Sony's 2018 animated feature Spider-Man: Into the Spider-Verse as his favorite Spider-Man movie while speaking at the premiere of his new Apple TV+ series The Crowded Room. "I think the first Spider-Verse movie is the best Spider-Man movie that's ever been made," the actor said. "I'm so proud of everyone involved. [Producer] Amy Pascal is like my mom. I was supposed to go with her [to the premiere of the sequel] as her date, I couldn't go because I'm here working. But I'm incredibly proud of them, I'm excited for the second one. I'm sure it will live up to every expectation, and I can't wait to see it."
RELATED: Miles Morales Live-Action Spider-Man Movie in Development
Holland debuted as the MCU's Spider-Man in Marvel Studios' 2016 film Captain America: Civil War. This made him the third actor to play Peter Parker on the big screen post-2000, following Tobey Maguire in Sam Raimi's Spider-Man trilogy and Andrew Garfield in Marc Webb's Amazing Spider-Man duology. Holland subsequently reprised the role in a number of additional MCU projects, including 2017's Spider-Man: Homecoming, 2018's Avengers: Infinity War, 2019's Avengers: Endgame and 2019's Spider-Man: Far From Home.
Holland also made an uncredited cameo as Spidey in Sony's 2021 non-MCU Marvel film Venom: Let There Be Carnage, which ended with Eddie Brock/Venom (Tom Hardy) being pulled into Earth-199999. Interestingly enough, there were also once plans for Holland to cameo alongside Maguire and Garfield in Sony's Into the Spider-Verse. This fell through, however, and none of the three actors ultimately appeared in the Oscar-winning animated film. However, Holland would get the chance to appear alongside his successors yet.
RELATED: Tom Holland Confirms Spider-Man 4 Meetings Were Happening Before WGA Strike
Spider-Man's Cinematic Legacy Continues
Holland's final appearance as Peter Parker to date came in the 2021 MCU film Spider-Man: No Way Home, which united the three modern cinematic Spider-Men for a multiversal adventure. While there has been much talk of a fourth solo Spider-Man film set within the MCU, it still remains to be seen when fans can expect to see Holland suit up again. In the meantime, the sequel to Into the Spider-Verse, Spider-Man: Across the Spider-Verse, has just opened in theaters to overwhelmingly positive reviews and high box office projections. A third installment in the animated film series, Spider-Man: Beyond the Spider-Verse, is scheduled for release next March.
Spider-Man: Across the Spider-Verse is in theaters now.
Source: Variety