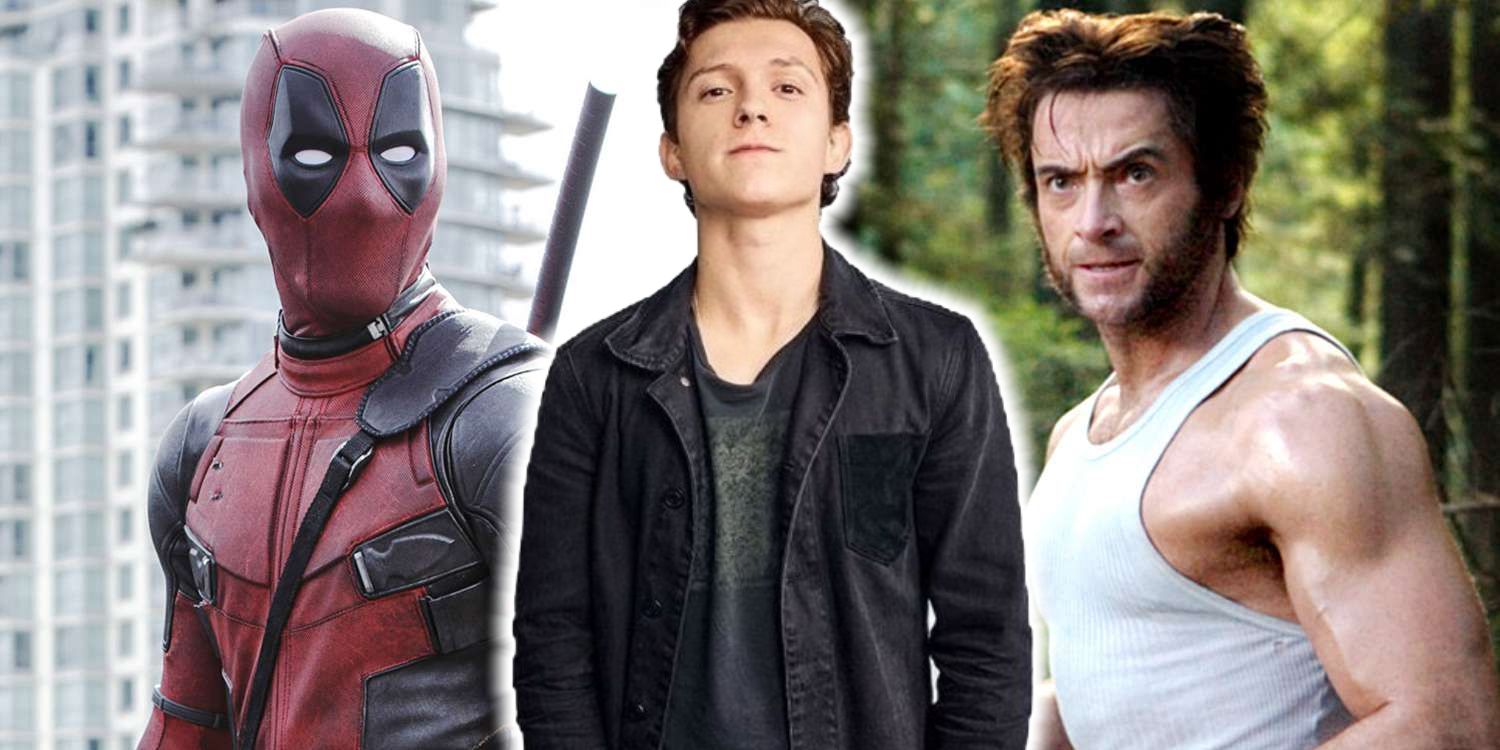 With Ryan Reynolds and Hugh Jackman finally teaming up in Deadpool 3, Tom Holland wants to team up with the mutant duo in the Marvel Cinematic Universe.
In an interview with Forbes to promote his upcoming Apple TV+ film, The Crowded Room, Holland shared his excitement for the forthcoming R-rated MCU film that sees the Merc with the Mouth butt heads with Weapon X. When asked if he'd considered having his Spider-Man cross paths with Deadpool and Wolverine, Holland could not contain his enthusiasm for the possibility. "Yeah, of course I have. I'm a big fan of both of those guys," Holland said.
RELATED: Tom Holland Reveals His Ongoing Struggle With Sobriety and Mental Health
He continued, "I'm sure the film is going to be fantastic. I know they have George Cottle (Jr.) on their side right now as their stunt coordinator and second unit director. You couldn't ask for a better guy. So I'm very excited for the film. I wish them all the best and I can't wait to see those two go at it."
Tom Holland's Love for Hugh Jackman's Wolverine
Holland previously expressed a desire to share the screen with Jackman's Wolverine since his MCU debut in 2016's Captain America: Civil War. When the X-Men film rights transferred to Disney after they acquired 20th Century Fox in 2019, Holland pitched a Freaky Friday-inspired MCU short film inspired by an Ultimate Spider-Man storyline where Spider-Man and Wolverine swapped bodies. Additionally, Holland revealed who he thinks would win in a fight between his Wall-Crawler and the versions of Wolverine as depicted in 2009's X-Men Origins: Wolverine and 2017's Logan.
RELATED: Across the Spider-Verse May Have Confirmed Tom Holland's Role in the Sequel
"I'll beat up that old man," Holland explained concerning Logan. "X-Men Origins, he's gonna batter me. I think Wolverine beats Spider-Man every single time. Because there's no amount of battering that Spider-Man can do, and also, Spider-Man doesn't kill people, and Wolverine does, so that is a huge advantage he has in a fight."
While MCU fans will have to wait and see if Spider-Man ever meets the mutants on the big screen, Deadpool 3 may be more than just a Merc with the Mouth and Wolverine team-up. A recent rumor suggests that actors Halle Berry, Famke Janssen and James Marsden could reprise their Fox X-Men roles as Storm, Jean Grey, and Cyclops. The rumor goes even further in teasing two big villains with "one from the Fox X-Men movies and one from the MCU" and that fans will never guess who they are.
Deadpool 3 is scheduled to open in theaters on Nov. 8, 2024.
Source: Forbes