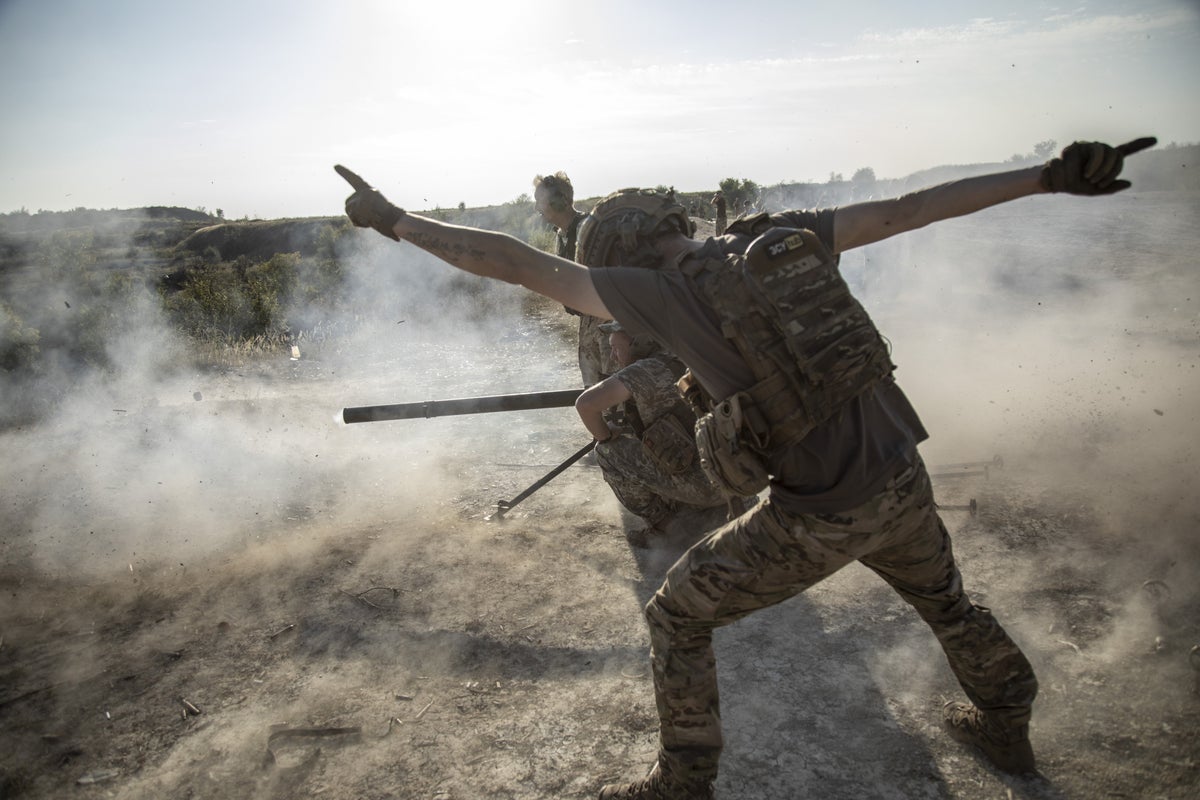 Zelensky says 'Russian society has raised a second Hitler' in attack on Putin
Ukrainian tanks have broken through Putin's final line of defence in western Zaporizhia Oblast signalling a big breakthrough, according to the Institute of Study of War.
This is the first instance of Ukrainian tanks cutting through Russia's strong defensive layer of anti-tank ditches and obstacles, said the ISW.
The ISW cannot confirm Ukrainian troops have fully broken through Russia's defensive layer near Verbove, but it indicates progress in the counteroffensive.
Ukrainian forces are likely to have suppressed Russian artillery and other anti-tank systems in the area enough to bring their vehicles forward, the ISW said.
Yesterday, Joe Biden announced a new $325m military aid package for Ukraine that will include air defence systems and other weaponry to help Kyiv face a tough winter.
Zelensky will meet Canadian Prime Minister Trudeau today as he rallies for further support to Ukrainian war efforts.
1695367196
Ukrainian counteroffensive pushes through Putin's final line of defence
We bring the news this morning that Ukrainian tanks have reportedly cut through Putin's final line of defence in western Zaporizhia Oblast signalling a big breakthrough.
The Institute of Study of War claims it is the first time Kyiv tanks have broken through Russia's strong defensive layer of anti-tank ditches and obstacles.
The ISW cannot confirm the Ukrainian troops have fully broken through Russia's defensive layer, but the report this morning indicates progress in the counteroffensive.
We'll bring more as we get it on the Ukrainian offensive in the south of the country.
Lydia Patrick22 September 2023 08:19
1695380442
Ukrainian missile strikes Sevastopol
At least one Ukrainian missile struck the headquarters of Russia's Black Sea navy in the Crimean port of Sevastopol on Friday, causing a fire, local governor Mikhail Razvozhayev wrote on the Telegram messaging app. Razvozhayev said another strike was possible and urged locals to avoid the city centre where the building is located. Firefighters were at the site, he said. Crimea, which Russia seized and annexed from Ukraine in 2014, has been a frequent target of Ukrainian attacks in the course of the 19-month war.
Lydia Patrick22 September 2023 12:00
1695379542
Kremlin says it's 'alert' to potential Polish threats
Russia says they are alert to potential threats from Poland, saying they are an"aggressive" country and a problem for their ally Belarus.
Kremlin spokesman Dmitry Peskov also predicted a widening rift between Poland and Ukraine after Warsaw said on Thursday it would not send new arms deliveries to Ukraine.
Lydia Patrick22 September 2023 11:45
1695378642
In pictures – A warm welcome
Lydia Patrick22 September 2023 11:30
1695377742
ICYMI: Polish President slates Zelensky in damning TV report
In a recent spate Polish President, Andrzej Duda, called labelled Zelensky as a 'drowning man'
In footage from a TV interview, he used the analogy of drowning, to say the Ukrainian President was bringing down his rescuers.
He said: "Ukraine is like a drowning man who will drag down those who are trying to help him.
"They say a drowning person is grasping at straws and indeed a drowning person is grasping anything he can."
Lydia Patrick22 September 2023 11:15
1695376842
'Ukrainian scheme should be blueprint for future crises'
A former refugee minister urges successors to use the Homes for Ukraine scheme as a template to welcome other civilians hit by war.
The Conservative peer and former Watford MP was elevated to the House of Lords in March 2022, and appointed the minister for refugees.
Lord Harrington, who stood down from the role in September last year, recounted his experience of it in the Lords chamber.
As of September 18, 132,900 people have arrived in the UK under the sponsorship scheme, with a further 54,400 arriving under a family reunion scheme, according to Government figures.
He told peers: "In Syria, with the Syrian crisis which was equally tragic in so many ways if not more, we had basically sourced from a humanitarian point of view which families to bring over here, based on the grounds of vulnerability which the UNHCR did for us."
The Tory peer added: "The Homes for Ukraine scheme came out of actually trying to think laterally about another way to settle refugees, because quite clearly without going into all of the asylum stories, there was no capacity in hotels or other ways to do it."
The former minister listed efforts to reduce visa processing times, and performing checks on the people volunteering their homes as some of the large-scale challenges facing the Government when the scheme was in its infancy.
Lord Harrington told peers: "I think it is the biggest movement of people into the UK that we have had since the Second World War. I am not saying it is perfect, there are a lot of faults and various adaptations of the policy are needed for the future."
He urged ministers to learn lessons from the scheme to prepare for future refugee crises.
He added: "I hope those lessons are learned and I hope that when the Ukrainian crisis, which of course I hope is over very soon, that is then not forgotten about."
Lydia Patrick22 September 2023 11:00
1695375942
How have Canada helped Ukrainian war efforts so far?
Canada has provided more than $8.9 billion Canadian (US$6.6 billion) in support to Ukraine in what Trudeau's government calls the highest per-capita direct financial support to Ukraine in the Group of 7 industrial nations. More than 175,000 Ukrainians have come to Canada since the war started and n additional 700,000 have received approval to come as part of an initiative that supports temporary relocation of those fleeing the war. The initiative allows for an open work permit for three years with pathways to permanent residency and citizenship.
Lydia Patrick22 September 2023 10:45
1695375042
Hope as the 'impossible' happens
Social media users react to the Ukrainian breakthrough in Zaporizhia which signals hope for the counteroffensive effort.
One man is optimistic the attack could bring a turn in the tide, he said:
Lydia Patrick22 September 2023 10:30
1695374142
War map shows 'penetration' of Russian front line
This map published by the Institute for the Study of War appears to show Ukrainian advances in occupied Zaporizhzhia, with the think tank claiming Kyiv's counteroffensive had breached Russia's front line.
In its report on the situation on the ground, the group said: "The Ukrainian ability to bring armored vehicles to and through the most formidable Russian defenses intended to stop them and to operate these vehicles near prepared Russian defensive positions are important signs of progress in the Ukrainian counteroffensive.
"Russian forces currently defending in western Zaporizhzhia Oblast have been unable to prevent Ukrainian forces from making gradual but steady advances since mid-August."
The ISW has claimed that Russian losses in the region have 'significantly increased' over the past week due to key Ukrainian counteroffensives.
Alex Ross22 September 2023 10:15
1695373242
Zelensky arrives in Canada
The Ukrainian president reached Canada late on Thursday for an unannounced visit shortly after he left Washington and concluded meetings with US president Joe Biden and lawmakers in Washington.
Mr Zelensky was received by Canadian prime minister Justin Trudeau on the tarmac of the Ottawa airport, marking his first visit to the country since Russia invaded Ukraine in February last year.
Visuals showed the Ukrainian leader and the country's first lady Olena Zelenska being warmly greeted by Mr Trudeau as the three shook hands.
Mr Zelensky will address the Canadian parliament on Friday as part of his campaign. The war-time president will be joined by Mr Trudeau, who will also deliver a speech.
Read more about Zelensky's surprise Canadian trip here
Lydia Patrick22 September 2023 10:00