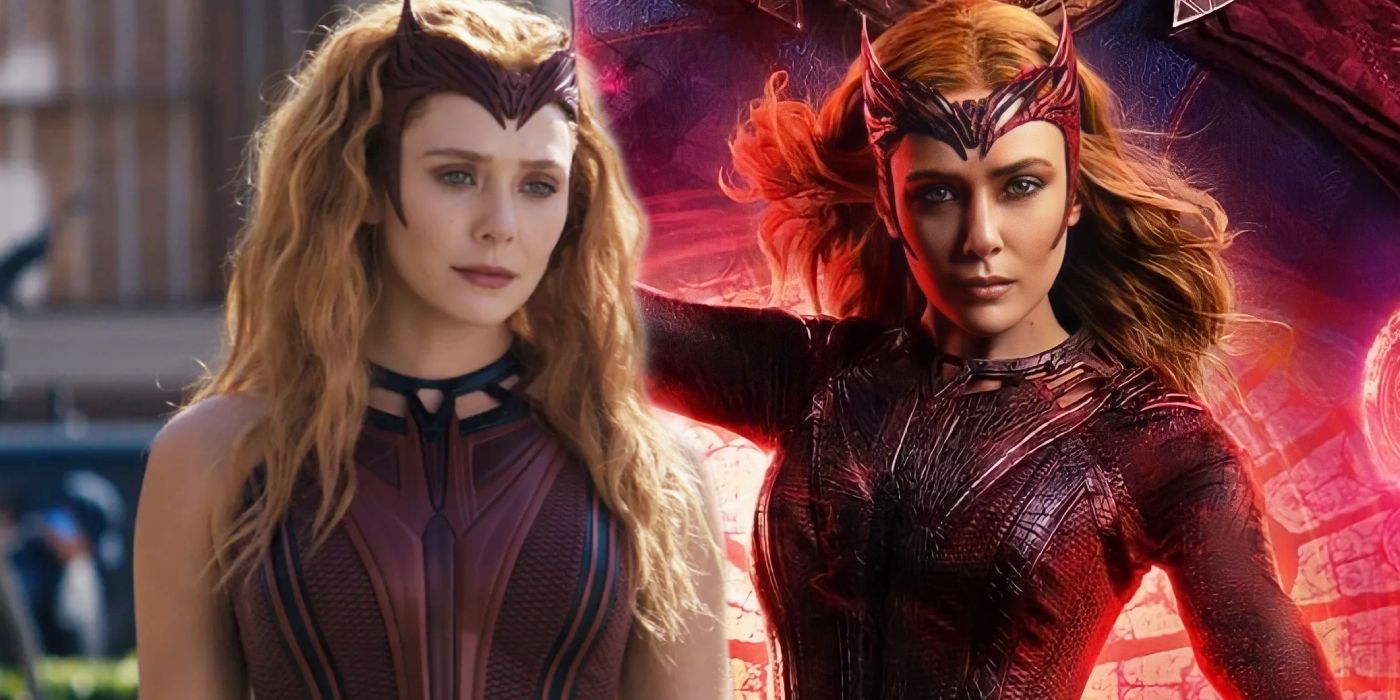 Andy Park, Marvel Studios' Director of Visual Development, has peeled back the curtain on Wanda Maximoff's (Elizabeth Olsen) Scarlet Witch outfit being redesigned for Doctor Strange in the Multiverse of Madness.
Olsen's Wanda Maximoff was introduced to the Marvel Cinematic Universe in the post-credits scene of 2014's Captain America: The Winter Soldier before making her first full appearance in 2015's Avengers: Age of Ultron. Since then, she has sported a number of different outfits. However, it was in the 2021 Disney+ series WandaVision that Wanda finally assumed her comic book moniker of the Scarlet Witch, complete with new threads and the character's iconic headdress. The former Avenger resurfaced as the main antagonist of Multiverse of Madness, sporting an outfit that was aesthetically similar to the one she wore in WandaVision, though noticeably different.
RELATED: Doctor Strange 2 Star Tells Scarlet Witch Fans, Keep Spreading Rumors So Marvel Brings Her Back
"Leading into Doctor Strange in the Multiverse of Madness, her design was just going to be the WandaVision costume," Park said during an interview with Ryan Penagos on Marvel Entertainment's official YouTube channel. "It wasn't until later that they decided to add the sleeves — to cover that up — and then to what extent are textures added, and all that kind of stuff.
"It was something that, eventually, the costume designer, Graham Churchyard, did a great job of," he continued. "I loved how he incorporated the sleeves, but then you see it kind of looks like it's getting corrupted. And then, the texture that he gave on the bodice area of the WandaVision suit — you know, it looks like it's a crack. It almost looks like it's like a broken heart. It really worked to give her story from, like, the hero that she became in the final episode in WandaVision to a more villainous spin — a dark, corrupted version of that hero outfit. It all worked for her story."
RELATED: Doctor Strange 2's Elizabeth Olsen Explains Why 838 Wanda Is Weaker
Wanda's Redesigned Outfit Represents Her Journey
Of course, the decision to make Wanda Multiverse of Madness' main antagonist has been divisive among Marvel fans — particularly those fond of WandaVision — with some believing that her transition from grieving, flawed hero to out-and-out villain felt unearned. Nevertheless, screenwriter Michael Waldron stands by the decision. "I guess I would say to the WandaVision fans, like, I get it," Waldron said shortly after Multiverse of Madness' release. "Watching a character you love do bad things sucks. That elicits a strong feeling, which is what we're trying to do in the movies. We never would have done it if it didn't feel like the next step in her character journey."
He elaborated, "To me, my interpretation of the story of WandaVision was, that Wanda is confronting her grief in that show, but I don't think she's necessarily conquering it. It's a show about her living in denial to some extent and she's conquering her denial, but I don't think that she's properly reckoning with her anger over what she's endured, and that anger is what she carries with her as she walks away with the knowledge that she is the Scarlett Witch and with the Darkhold, this evil book. And I think it's that anger that the Darkhold preys upon…"
RELATED: Elizabeth Olsen Pushes Back on the Idea Scarlet Witch Is Doctor Strange 2's Villain
WandaVision and Doctor Strange in the Multiverse of Madness are currently streaming on Disney+.
Source: YouTube