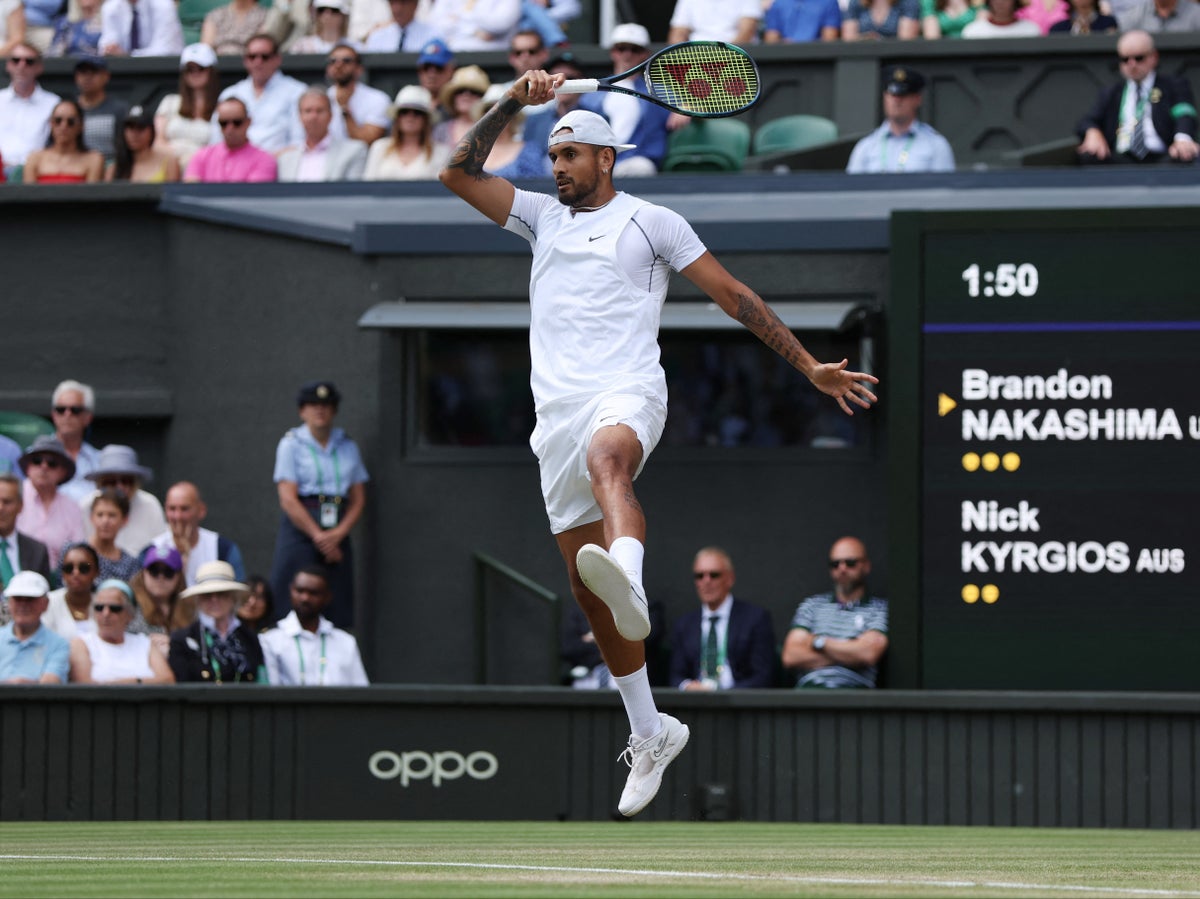 Digitally cleared daily wrap from 2022 Wimbledon Championships
Rafael Nadal returns to action on Day 8 at Wimbledon with the Spaniard up against Dutch player and 21st seed Botic van de Zandschulp. There is plenty more to look forward to before that on Centre Court with Nick Kyrgios looking to put the bitter third-round match against Stefanos Tsitsipas and a $4,000 fine behind him when he faces the USA's Brandon Nakashima.
The last remaining Grand Slam winner in the women's singles is Simona Halep and the Romanian, a champion here in 2019, battles fourth seed Paula Badosa, with the Spaniard able to match a career-best performance at a Grand Slam by reaching the quarter-finals. Harmony Tan's incredible run continues, too, with the French star inspired since her first-round win over Serena Williams and set to face American Amanda Anisimova.
There's plenty of doubles action today too, including Jamie Murray and Bruno Soarez, back in the third round of the men's doubles against John Peers and Filip Polasek in an intriguing battle, while Coco Gauff, beaten in the singles by Anisimova on Saturday, will hope her doubles journey continues in the mixed alongside Jack Sock when they face Alize Cornet and Edouard Roger-Vasselin in the quarter-finals. Follow all the action from day seven, including live updates and results from the All England Club
1656939307
Wimbledon 2022: Wimbledon 2022: Nick Kyrgios 3-3 Brandon Nakashima*
Kyrgios has his first conversation with the umpire after the fifth game. It's nice and polite – Kyrgios just wanted him to look at a patch of grass behind the baseline.
Nakashima, meanwhile, has settled nicely and hasn't allowed Kyrgios to pick up speed on the return game.
The service game is a different story, though. Rapid firing from Kyrgios and the backhand slice at the net is his first moment of magic in a rally.
Forehand winner! Kyrgios flashes the shot down the line.
Jamie Braidwood4 July 2022 13:55
1656939104
Wimbledon 2022: Wimbledon 2022: Nick Kyrgios 2-2 Brandon Nakashima*
While Kyrgios gets underway, Alex De Minaur is taken to a fourth set by Cristian Garin, who takes the third-set tiebreak! Could be a long one there over on Court No 2.
Kyrgios, meanwhile, with the second serve ace followed by the underarm. It clips the net cord and falls for a let. Kyrgios then gets slightly fortunate that Nakashima did not make more on a short drop shot from Kyrgios. The backhand pass at 40-30 nets and Kyrgios holds.
Jamie Braidwood4 July 2022 13:51
1656938591
Wimbledon 2022: Nick Kyrgios 1-1 Brandon Nakashima*
Nakashima takes a very comfortable service game to love. Kyrgios with a couple of wild returns on the Nakashima serve.
He wins his first point of the match with the second serve ace! Rapid pace again from Kyrgios – who skelps the forehand winner to move 40-15.
Wild from from Nakashima on the backhand and Kyrgios holds.
Jamie Braidwood4 July 2022 13:43
1656938300
Wimbledon 2022: Nick Kyrgios vs Brandon Nakashima
Kyrgios just practiced two underarm serves during his warm-up.
It will be the American to serve first.
Jamie Braidwood4 July 2022 13:38
1656938074
Wimbledon 2022: Nick Kyrgios vs Brandon Nakashima
Applause for Kyrgios as he makes his way out onto Centre Court to begin his warm up with Nakashima. How will the Australian adjust to Centre, and with the earlier start time? Very different conditions to the wild atmosphere of his late-night battle with Tsitsipas on Court One.
Jamie Braidwood4 July 2022 13:34
1656937747
Wimbledon 2022 – Nick Kyrgios 'not trying to be Dennis Rodman'
So the big revelation today is that Nick Kyrgios not only has one Dennis Rodman shirt, but two! After wearing a shirt with the former NBA 'bad boy' to his press conference against Stefanos Tsitsipas, Kyrgios was wearing another, different, Rodman shirt when practicing earlier.
Asked if he was trying to be the Rodman of tennis, Kyrgios replied: "I saw the shirt today in my house, I was, like, Yeah, that will work. We were watching "Last Dance" this morning as well on the TV. NBA is a great example. Like, these guys are competitors. Like, a little bit of trash talk. I wasn't even trash talking him (Tsitsipas). He's going to say I bullied him. I didn't do anything. It's just crazy.
"I wasn't trying to be like anyone. I was just going out there and competing at Wimbledon, and I did it. It was successful. Everything I did worked. It was like I'm not going out there to be his friend, like, Oh, Tsitsipas. Do you want me give him a lot of respect, and say, Beautiful shot, Stefanos?
"No, that's not what I'm going to give to him. I'm just going to be myself. I'm not trying to be Dennis Rodman. Trying to be myself."
Jamie Braidwood4 July 2022 13:29
1656937615
Wimbledon 2022: Nick Kyrgios vs Brandon Nakashima
The atmosphere is building nicely on Centre Court, anticipation for Kyrgios vs Nakashima.
Jack Rathborn4 July 2022 13:26
1656937453
Wimbledon 2022: Nick Kyrgios on Wimbledon title chances
Nick Kyrgios was asked if he could win Wimbledon after defeating Stefanos Tsitsipas. "Yeah, I feel good," was his reply. "As I said, round by round, if I keep doing my things, I feel good. I'm all right."
The Australian was then asked what had been "holding him back" from competing in the grand slams. "I think I just don't like travel, and tennis is a tough one," he said. "When you're from Australia you have to travel eight months of the year to play a full schedule. That's not something I'm willing to do. So that's first things first. I don't like to travel that much.
"Obviously I haven't been able to play a consistent level of tennis. I'm very accountable. I haven't been able to produce my best tennis in consistent number of times in the year, and that's that simple. I have produced some fair, consistent tennis against Tsitsipas, though."
Jamie Braidwood4 July 2022 13:24
1656937205
Wimbledon 2022: Upcoming schedule as show courts begin
1. Brandon Nakashima v Nick Kyrgios
2. Paula Badosa v Simona Halep
3. Botic Van De Zandschulp v Rafael Nadal
1. Elena Rybakina v Petra Martic
2. Jason Kubler v Taylor Fritz
3. Amanda Anisimova v Harmony Tan
Jamie Braidwood4 July 2022 13:20
1656937028
Wimbledon 2022: Cristian Garin 2-6, 5-7, 3-3 Alex De Minaur
De Minaur has now battled back into this set as Garin relinquishes his third-set lead.
On Court No 1, the match between Elena Rybakina and Petra Martic has got underway.
Both players advanced to the fourth round without dropping a set and taking out some seeded opponents.
Jamie Braidwood4 July 2022 13:17