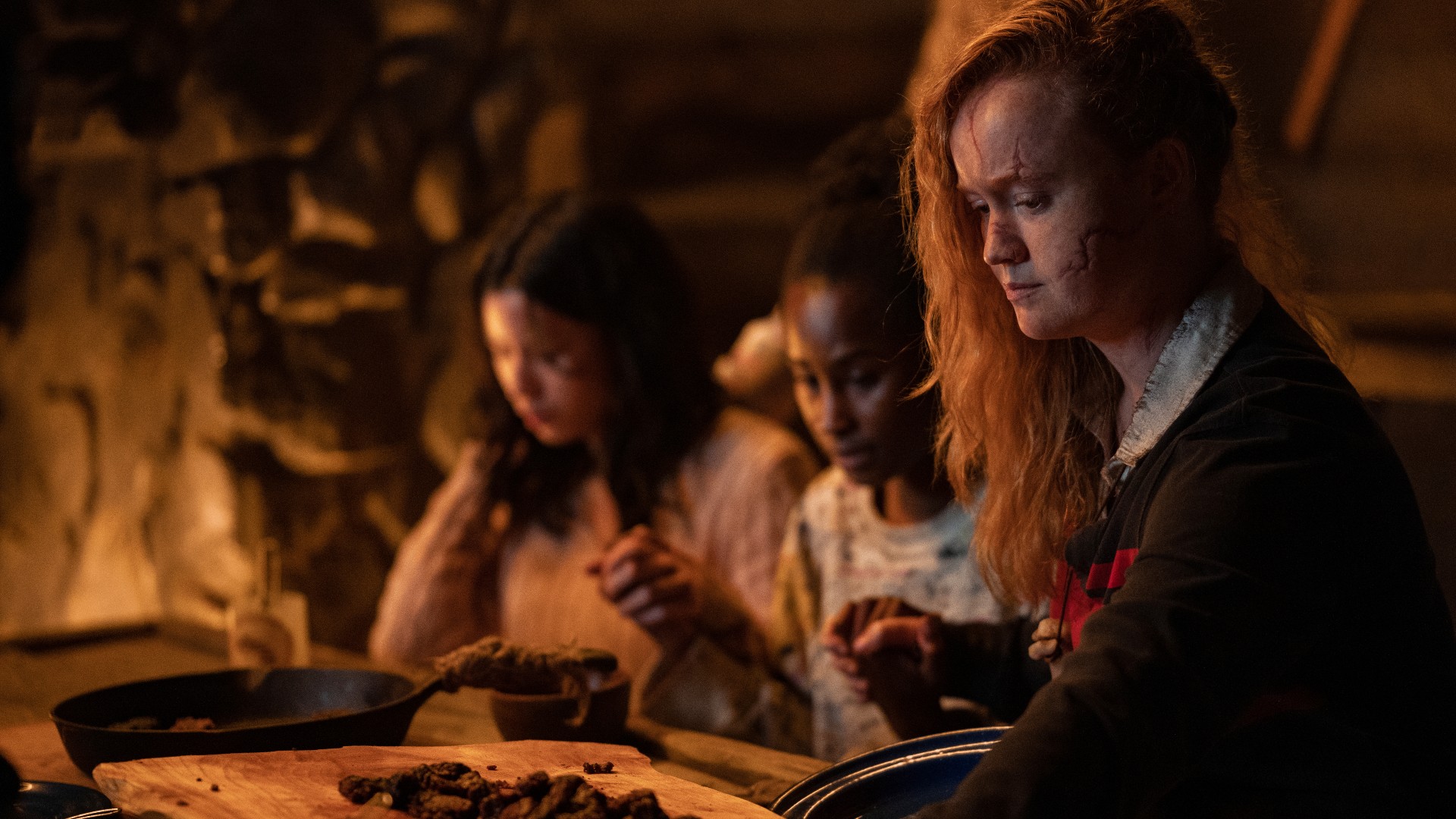 What on Earth is Going on With Taissa?
While viewers may have been prepared for a lot of wild twists in the Yellowjackets finale, I'm not sure anyone was ready for the revelations about Taissa. Granted, we knew she'd been sleepwalking and eating dirt and was so concerned about her behavior that she asked her wife and son to leave their home for their own protection. (None of which, for the record, are good things!) But the revelation that she's built a blood-soaked altar in a basement crevice that includes the decapitated head of the family dog is pretty much next-level disturbing.
Is Taissa aware of what she's been doing? Does she know she killed their supposedly "missing" pet? And does she believe her blood sacrifice is somehow responsible for her improbable, last minute state senate victory? If so, does that mean she's likely to keep doing it?
Who Kidnapped Natalie?
Natalie, who is contemplating suicide, is interrupted by a bunch of strangers in sweats bursting into her hotel room, all of whom sporting medallions emblazoned with that bizarre stick figure image from the group's time in the woods. She's dragged out of her room and stuffed in an unmarked van – just as a voicemail confirms one Lottie Matthews was responsible for emptying out Travis' bank account after his death.
It certainly looks like Lottie sent some of her followers to kidnap Natalie for getting too involved in trying to find out the truth about Travis' death. But if so, why? Clearly she (and/or her group) are not averse to murder, so why boether to leave her alive at all?
Who is Adam?
A certain segment of the internet's dedicated squad of Yellowjackets citizen detectives wanted Adam to have a shocking secret identity. Per these theories, he was everything from a secretly grown-up Javi to Shauna's woods baby, somehow alive and returned to her (Which, ew? They hooked up, y'all!)
Yet, in the end, it seems as though he was a fairly normal guy, if one who got mixed up in something that eventually went way over his head and ultimately became yet another victim of Shauna's lingering trauma. But rather than have his identity turn out to be some sort of shocking secret, instead he is more of an emotional symbol – of the escape Shauna was chasing, and the idea that she could ever have a life that wasn't directly shaped by the crash of Flight 2525.
Source: Den of Geek