For some, social media and videos might be an avenue for procrastination, a distraction from the mundanity of the daily grind.
For Qistina Sujimy and her family, it is a lifestyle.
The family of five all share a keen interest in videos and various forms of media, and it has been something that has tied them together.
Now, having graduated from Republic Polytechnic's Diploma in Media Production & Design, Qistina has grand plans of opening her own media company like her father.
Started making videos at a young age
As a kid, Qistina would follow her parents to their workplaces in the media industry and observe them behind the bright lights and cameras on set.
"I see them like, you know, getting their makeup done, and I will see them directing… [and I was] intrigued."
Her mother, Haslinda Ali, was a TV personality in the 90s. Incidentally, Qistina's father might be a familiar face to some as well.
As a veteran who has been in the media industry for 31 years, Sujimy Mohamad started off as a radio producer, before joining Mediacorp as a TV producer.
Sujimy has been a great inspiration to Qistina, so much so that she decided to follow in his footsteps and pursue a career in the media industry.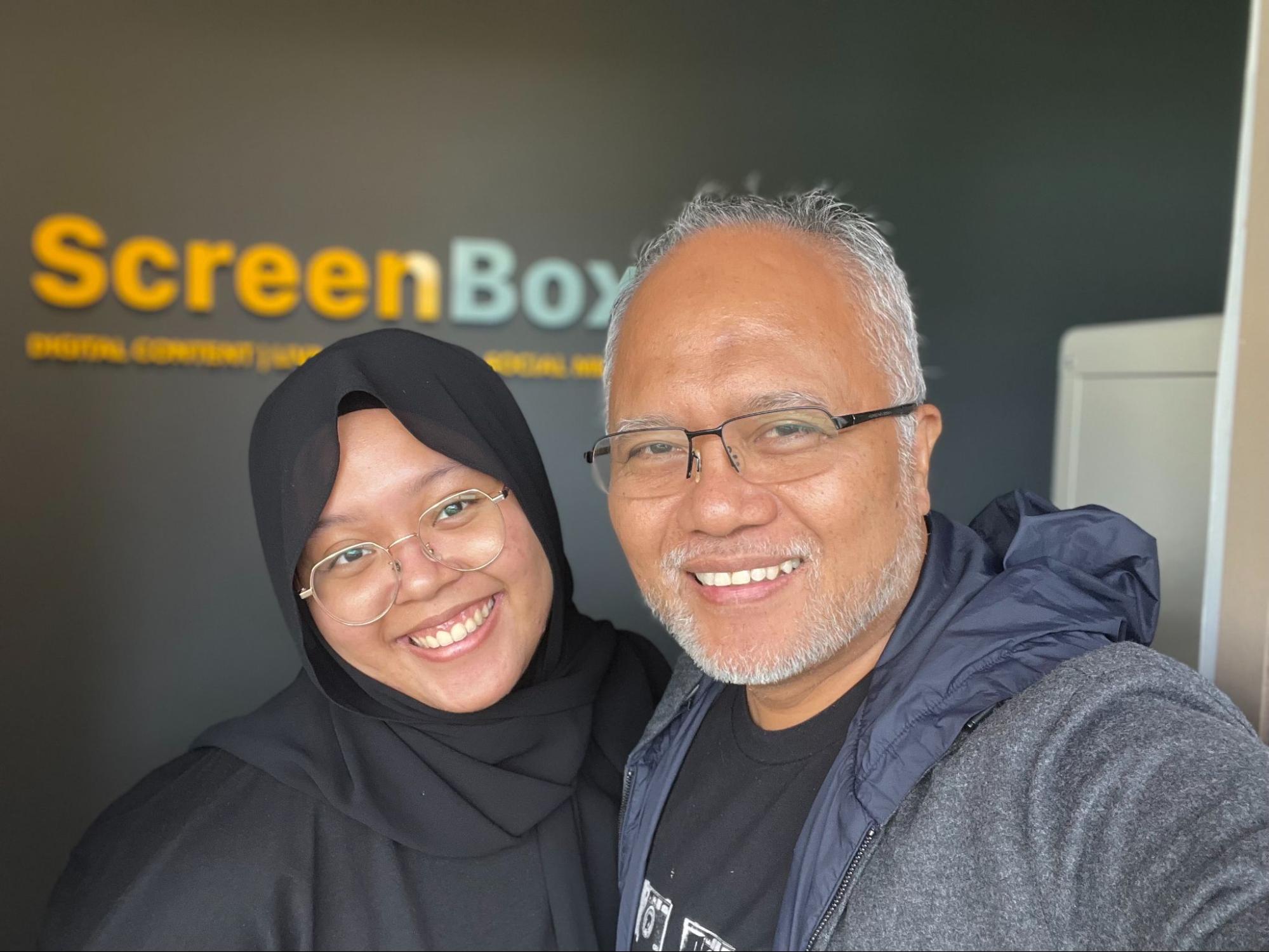 When overseas, Sujimy would capture their family trips on travel vlogs that he would share on his social media channels, in the vein of "A Day In My Life" videos.
That piqued the curious mind of Qistina and she started to get her hands on video making at the age of 10.
Qistina and her sisters would film themselves at home using their old iMac's camera.
She recalls creating music videos and acting as newscasters à la "The Noose" with her sisters. These videos would go on to be uploaded to her YouTube channel.
"We each had our own character and persona… I was the funny [newscaster] and my sister was the super serious one," she recounts fondly.
She counts YouTube as a tremendous source of inspiration, citing YouTuber Lilly Singh, who goes by the moniker "IISuperwomanII" and chronicles her daily life in vlogs, as one of the content creators she looked up to back then.
Qistina gradually honed her editing skills by observing the varying styles of editing by different YouTubers and tinkering around on iMovie.
"I spent a lot of time when I was younger just watching YouTube and seeing how different people edit. That was one inspiration that got me to go on YouTube and search 'How do I do this transition on iMovie?', 'How do I do this kind of editing style on iMovie?'"
Passion grew into serious business
This interest in video making was sustained throughout her adolescence.
Video creation seeped into her everyday life — even when she was out with friends, she would film videos of their casual jaunts.
Aware of her interest in video making, teachers would also request for her to create videos of her class' overseas trip.
The hobby eventually grew into fervour, and Qistina decided that this was something she wanted to do for the rest of her life.
She vaguely recalled a point in time in Secondary 3 when her classmates complimented her for the videos she made.
The positive affirmation boosted her confidence. She mused: "That made me feel very reassured, that okay, you know what, I think it's meant to be. Like this is something I should be doing".
Polytechnic was her first choice
Firm in her decision to pursue a career in the media industry, Qistina turned her sights to life after secondary school.
Going to Junior College was never on the cards for her. She identified herself as more of a "hands-on" person, and she saw studying media at a polytechnic as the clear-cut path forward.
Throughout this period, Qistina's parents were supportive of her interests and decisions.
For example, they bought her a video camera and a Macbook when she was in secondary school so she could edit her videos without having to use the family computer.
Qistina maintains that despite their own careers and backgrounds in media, her parents had never pushed her towards this specific path, and instead allowed her the freedom to blaze her own trail.
The RP experience
Through the Early Admissions Exercise (EAE), Qistina secured a place in Republic Polytechnic's (RP) Diploma in Media Production & Design.
Not only did she hone her skills in video production, the course includes electives such as Critical Thinking and Marketing.
"At first I was like 'why do I have to take this? It's not relevant.' But when I started doing the class I was like oh my god, wait, actually it's very useful."
The problem solving and communication skills she picked up through these modules proved beneficial when Qistina graduated from RP in May 2022, and started working as an understudy at her parents' production house, Screenbox.
At Screenbox, Qistina had to liaise with clients and external organisations. She credited her ability to deal with external stakeholders with ease to what she had learnt during her studies.
During her time in RP, she also dabbled in some animation on After Effects.
"I had zero knowledge on animating, I've never done animation at all, but when I started doing [it] I was like oh my god, this is so fun, it's so easy!" Qistina marvelled.
Qistina was later one of several selected to participate in the 2021 Crowbar Awards, a prestigious competition for young creatives across Asia. Qistina produced a video documenting her group's project, and the team ended up clinching a Bronze award.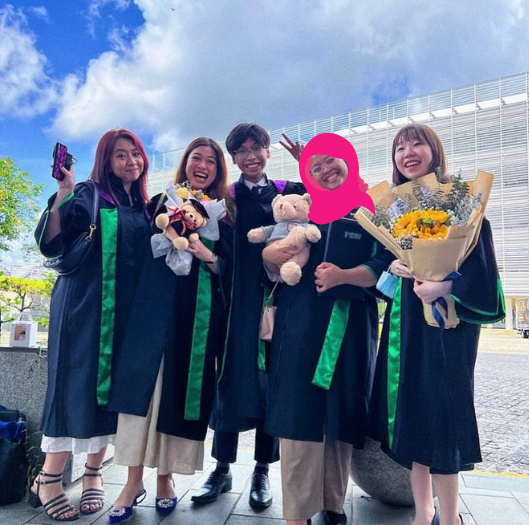 Qistina also put her newfound animation skills to good use outside of school.
When it comes to birthday gifts, many of us may purchase a gift or treat our loved ones to their favourite meal.
Qistina actually creates animated videos for her friends. She will include a QR code that leads to the video in a birthday card, and present that as a gift.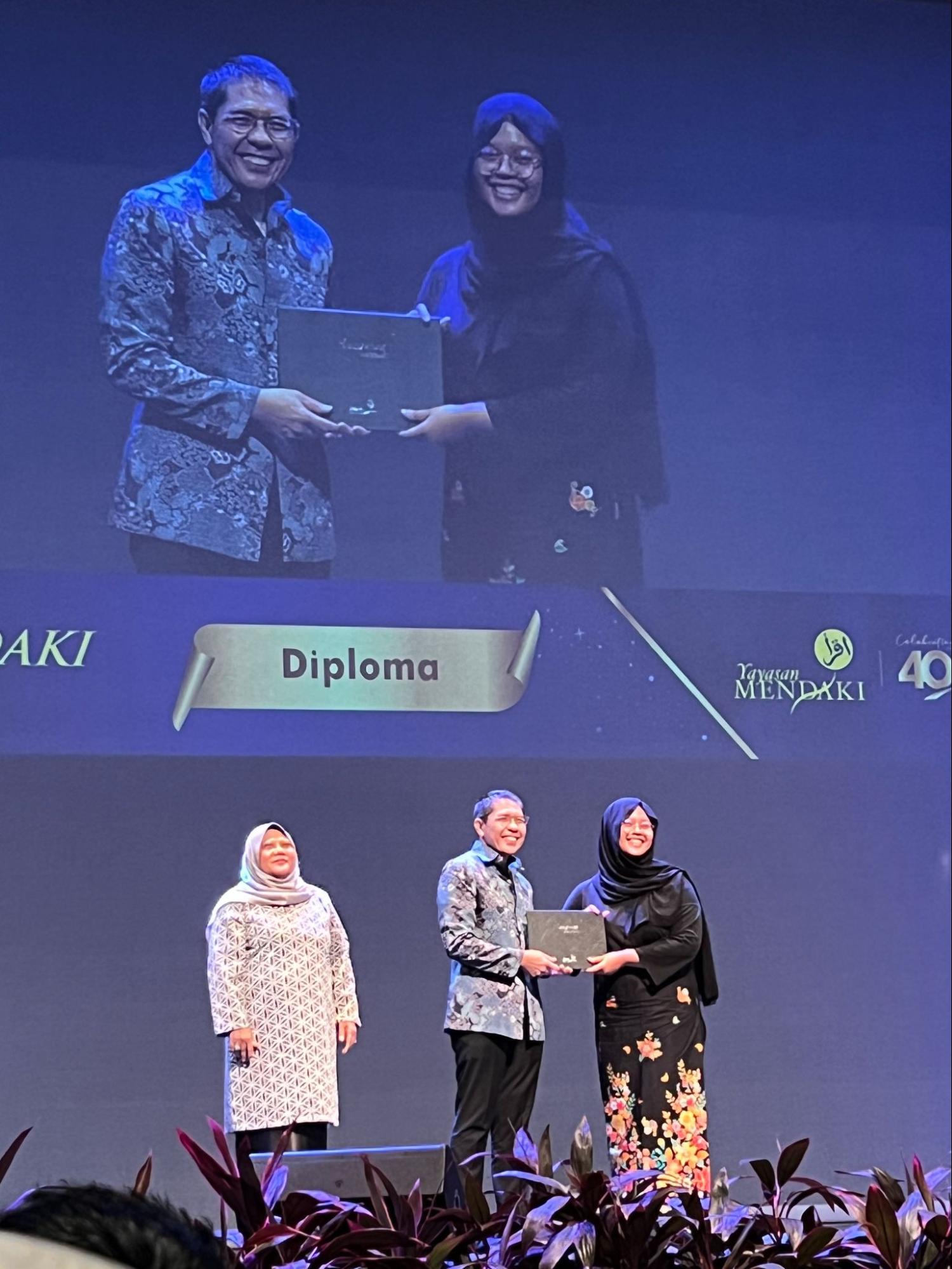 In her father's shadow?
Since graduating, Qistina plans to further her studies.
She hopes to get a part-time business degree and harbours dreams of starting her own media company, or perhaps even taking over her father's.
"I want to be a businesswoman, but we'll see how that goes," she chuckles.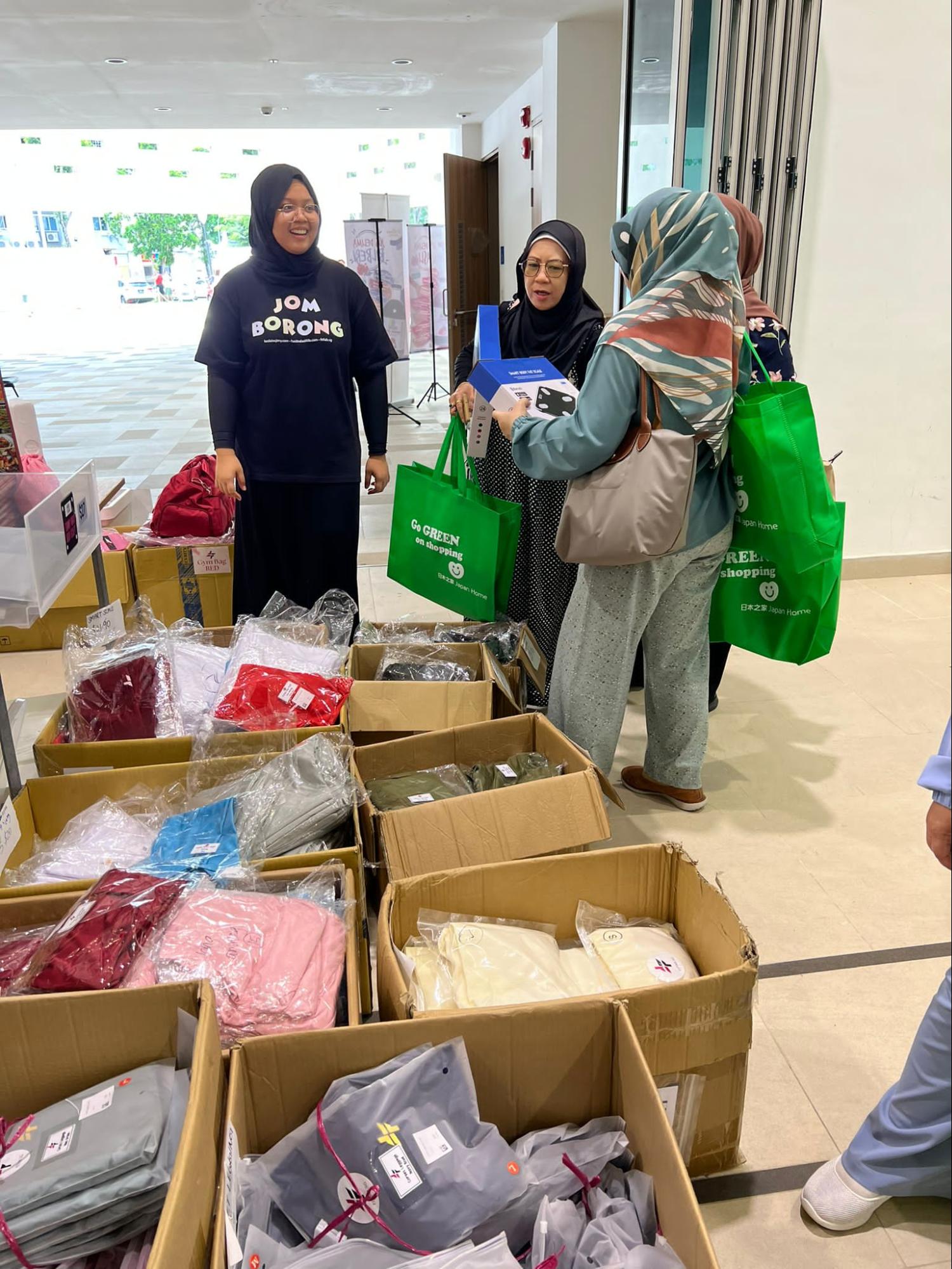 When asked if she ever feels like she will remain in her father's shadow, considering his fame and accomplishments in the media industry, Qistina acknowledges that she does feel that way occasionally.
People identify her as and call her "anak Sujimy", which means "Sujimy's daughter" in Malay.
"I don't mind it at all, but of course in the future I want to be my own person."
She is aware she still has much to learn and is currently content to pick up as much as she can from her father.
Qistina shared that she is also extremely thankful that both her parents are in the media industry, as they are familiar with the inconsistent working hours and the toil it might require.
"I know some… families where the parents don't understand the media industry.

Yeah, I'm very blessed to have parents who understand and who have experience working in the media industry."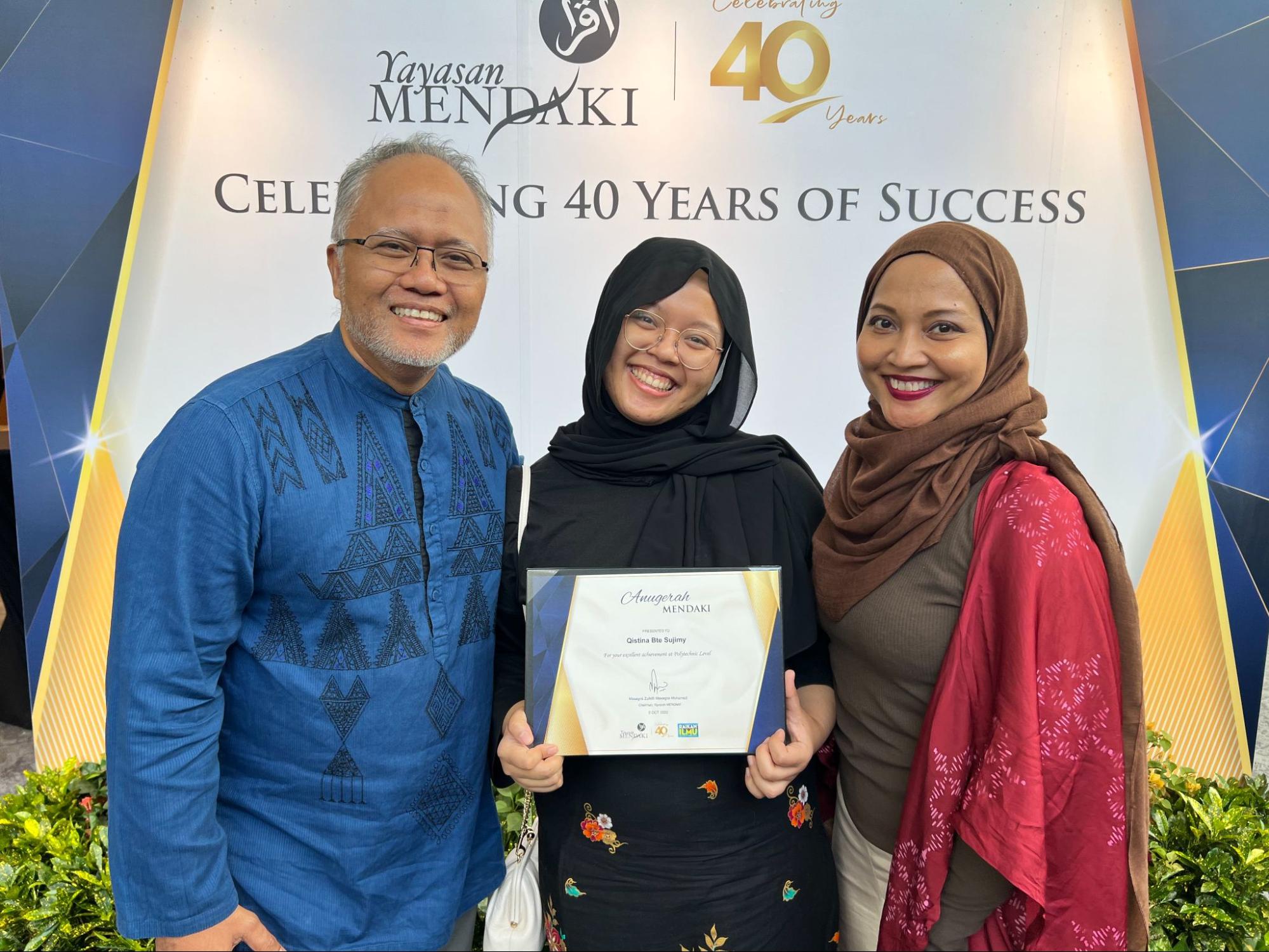 Hoping to pursue an EAE like Qistina?
You can find out more by signing up for the EAE Talk by RP's Principal & Chief Executive Officer, Jeanne Liew, on Jun. 9.
RP lecturers will also be present at the event to address any concerns or questions potential candidates might have. You can sign up for the talk here.
Alternatively, find out more about EAE here.
This is a sponsored article by Republic Polytechnic
Top photo courtesy of Qistina Sujimy